Halloween Themed Funeral Held In Luton
16 July 2015, 12:09 | Updated: 16 July 2015, 12:12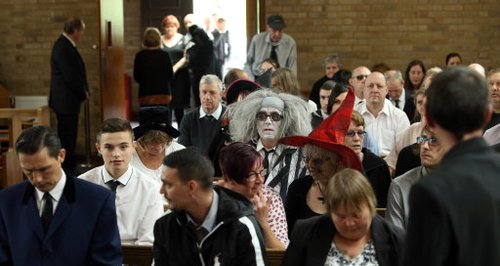 Family and friends of a 56-year-old grandmother who died from cancer filled a crematorium in Luton to celebrate her life with a Halloween-themed funeral.
Witches, Beetlejuice and the Tasmanian Devil were among about 100 people remembering Lorna Johnson at a service conducted by Darth Vader.

Mrs Johnson's son Neil said the funeral at Luton Crematorium reflected his mother's love of Halloween and fun.

He said: "My mum's favourite time of year was Halloween. We always had parties, dressed up, decorated the house. The kids loved it, we loved it. It was something we always did.

"She classed herself as a white witch and was into the tarot readings and that sort of thing.

"We've added an extra little personal touch to the funeral, it's helped a lot.''

Mr Johnson, 34, said music at the service included Dolly Parton's I'm Gonna Miss You, some indie rock and a trance song to end the funeral.

"The trance song is almost like rave music, far out dance type music,'' he said. "I suppose for a 56-year-old lady to be into that is a little strange.''

Mr Johnson dressed as the Tasmanian Devil for the funeral. His sisters wore witches' hats and a friend dressed up as the film character Beetlejuice.

Funeral director Brett Houghton, from Co-op Funeralcare, led the service dressed as Star Wars' Darth Vader.

Mrs Johnson died from lung cancer in June after being diagnosed in October last year. Her husband died in November.

They had four children - two sons and two daughters - and 10 grandchildren.