Cardiac Arrest Survivors Wanted!
9 May 2018, 06:00 | Updated: 9 May 2018, 07:07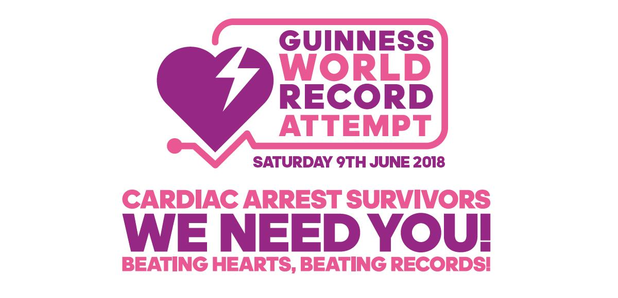 A Heart listener's part of what's expected to be the setting of the first world record attempt at the most cardiac arrest survivors in one place at one time.
Ingrid Gardner's hoping cardiac arrest survivors will want to be part of this first attempt not only to highlight the issues facing patients but also a chance for people to learn more from each other about healthy lifestyles and coping with life after such a traumatic event.
So far, people have signed up from across Suffolk, Essex, Cambridgeshire, Northamptonshire, Hertfordshire, Bedfordshire and Buckinghamshire say they'll be attending - but more are wanted from across Norfolk.
The attempt will take place on Saturday 9th June at the Essex Cardiothoracic Centre, which is part of the Basildon Hospital campus.

Volunteers from the hospital and Essex Air Ambulance will be assisting with the event so that everyone knows what they are doing and it runs smoothly.

The organisers say:
"They want to ensure the event is worth travelling for and will have educational sessions and a party afterwards, along with a chance to meet survivors and others affected

CONDITIONS
This is the first time this record has been attempted and Guinness World Records have stipulated a number of conditions that must be met for the attempt to be considered valid including:
At least 50 cardiac arrest survivors must be present
Each survivor's identity must be authenticated – Driving Licence/Passport
Each survivor must have medical proof of having had a cardiac arrest – doctors note, statement, discharge papers, medical notes etc
For the attempt to be valid the organisers say they need to have 50 or more confirmed cardiac arrest survivors which means each survivor must have proof of who they are and medical evidence that they have had a cardiac arrest.

The Guiness World Records officials say a valid driving licence or passport must be supplied to the organisers and a doctors note, statement, discharge papers, medical notes or something similar that is on official paper and signed appropriately. Be aware that you may not see the exact words "cardiac arrest" on your notes, but an equivalent e.g. VF arrest, sustained VF – which needs to be present. If you are in doubt go to your GP and get a letter confirming your case – Note that you may be charged for this.

On the day a medical doctor will validate your papers and copies will be taken which need to be sent to GWR as part of our evidence pack.