Hemel Hempstead's New Forum Opens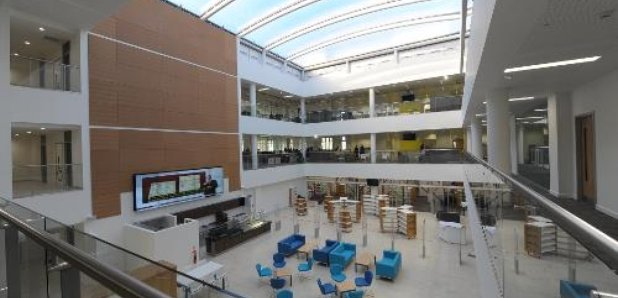 Hemel Hempstead's new council HQ's opened today - incorporating local authority staff, the library and voluntary services groups.
Construction began a year and a half ago and now the new building, The Forum, has opened today which will also include the Hertfordshire Register Office.
Leader of Dacorum Borough Council, Councillor Andrew Williams, said:
"The Forum is all about welcoming the public in and helping residents access services more easily under one roof. You walk into an open plan, energy-efficient building to be greeted by a state-of-the-art central library housed in a light and airy central atrium next to a new café. It's an inspiring place to visit and a whole new way of working – as well as creating a striking landmark at the northern end of town."
Teresa Heritage, Cabinet Member for Public Health, Localism and Libraries at Hertfordshire County Council, said:
"We have listened to residents who told us that they wanted their libraries to be vibrant, welcoming and capable of delivering a modern service. We are really excited about the new Hemel Hempstead library, including the launch of the new CreatorSpace facility – which will give people the chance to try out new technology in the comfort of their local library."
The 75,000 square foott energy-efficient building has achieved the rating of 'excellent' for sustainability. Rooftop solar panels enable the building to generate its own power, while water for toilets and heating is supplied by rainwater held in an underground reservoir. Safe cycle parking encourages staff to bike to work.
Dacorum Council's taxpayers will save over £300,000 annually in running costs according to the authority, as well as ruling out the need for a projected multi-million refurbishment of the outdated 1960s Civic Centre and its substantial upkeep.
Dacorum Borough Council say alongside a planned new modern apartment complex and the new West Herts College Campus, The Forum is revitalising the Gade Zone area of Hemel Hempstead town centre as part of our Hemel Evolution regeneration programme.
The four-floor building now houses key borough council services, including housing, planning, environmental health and benefits, together with the county council's library and register services. Voluntary sector partners will start to move in at the end of January.
Council customer services: will be open from Monday to Thursday 8.45am to 5.15pm, and Friday 8.45am to 4.45pm.
The public will also benefit from a new customer services centre with upgraded queuing system, a fast-track area with five self-service machines and two additional payment machines, as well as telephones to partner organisations. Staff will be on hand to meet and greet and help customers use the self-serve equipment.
Hemel Hempstead Library and CreatorSpace: will be open Mondays (9am to 6pm), Tuesday (Midday to 6pm), Wednesday (9am to 6pm), Thursday (9am to 7pm), Friday (9am to 6pm), Saturday (930am to 4pm), Sunday (Midday to 4pm).
The borough's new central library makes full use of the bigger space it now occupies, providing more books and resources, including public computers, Wi-Fi, and reading and study areas – as well as being designed flexibly to allow for community events.
Hemel Hempstead Library will also see the launch of Hertfordshire's second CreatorSpace, following the launch of Hertfordshire County Council's first CreatorSpace in the newly refurbished Watford Library in November.
CreatorSpace is an ambitious new concept in Hertfordshire Libraries which brings together creativity and digital technology. CreatorSpace Hemel Hempstead is designed to encourage people to experiment with digital making and learning in the supportive environment of the new library.
This will include: a 3D printer; iMac computers (loaded with professional grade audio and video editing software), tablet computers, digital embroidery sewing machines, a digital cutter for craft activities and Chromebooks and Raspberry Pi kits for use with young people's coding clubs.