Herts & Beds' Ambulance Service Sees Rise In Seriously Ill Calls
28 January 2016, 06:15 | Updated: 28 January 2016, 06:17
There has been a rise in the number of seriously ill people calling for an ambulance in the East of England.
From January 2014 to last month, the numbers of patients dialling 999 with life threatening or potentially life threatening problems went up by more than a third (36.6%).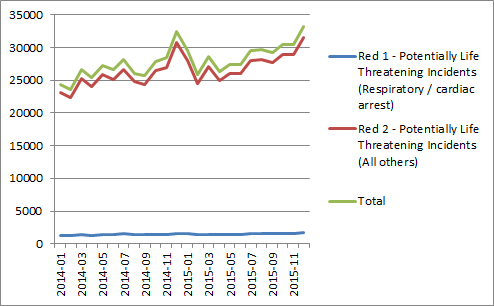 These figures above involve calls that are categorised as 'Red 1' (potentially life threatening, involving cardiac arrest or respiratory problems) and 'Red 2' (all other potentially life threatening incidents), which have to be reached by a paramedic in under 8 minutes, 75% of the time.
The ambulance service has come under fire in the past for not hitting those Government targets.
But, new boss Robert Morton says the rising demand willmakes it unlikely they can meet the requirements this time around.
It's despite a number of new procedures in place which he says have improved their response rates in a year by 6%.
So he's asking for 300 new paramedics to plug the gap, and tackle their front line needs.
Hear from Mr Morton in the news this morning.