Herts PC Awarded For Bravery At National Event
14 July 2017, 17:44 | Updated: 14 July 2017, 17:50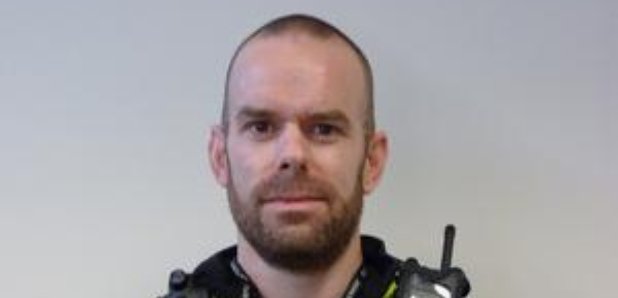 An un-armed Hertfordshire police officer who protected the public from a knifeman in St Albans has been recognised for his courage, at the National Police Bravery Awards.
PC Carl Callan was on patrol in St Albans in June 2015, when a call came in to say a man was in possession of a knife in Hatfield Road.

Because of the nature of the incident, it was determined un-armed officers should only intervene, if lives were in danger.

PC Callan arrived to find the offender attacking members of the public with the knife; in fact, he had already tried to stab one person in the chest but had been unsuccessful only due to the victim's thick padded coat.

In a split second, PC Callan decided to intervene without any thought for his own safety and challenged the offender.
With the help of members of the public he detained the offender, who was found to be carrying a number of knives, until firearms officers arrived to assist. Fortunately, no members of the public were seriously injured during the incident.

Anthony Zambra, 40, of Watford Road, St Albans, was arrested.
Eventually he pleaded guilty to various crimes including GBH, threats to kill and possession of a knife and was jailed for 3 years.

On being recognised at the National Police Bravery Awards, PC Callan said:
"I am extremely honoured to have been a finalist at the National Police Bravery Awards. I was just doing the job I am trained to do and I would do it again in a heartbeat. I'm so proud to be a police officer and I am overwhelmed to receive this recognition."
PC Callan was a regional finalist and received his award in London yesterday (Thursday, July 13).
Hertfordshire Police Federation Secretary Vojislav Mihailovic, who nominated PC Callan for the award, said:
"Without the immediate intervention of PC Callan it is truly believed that many more members of the public would have suffered serious or possibly fatal injuries. PC Callan was unarmed other than his Personal Protection Equipment (PPE) and showed little regard for his own safety but felt that immediate intervention was necessary to apprehend the man.

PC Callan knew the threat and risk posed to him but nonetheless tackled the offender. This was outstanding bravery and he used his training and experience to excellent effect.

It is without doubt the fact that PC Callan prevented the serious injury, or death, of members of the public or indeed of the offender himself."