Historic Delapre Abbey Re-Opening Delayed
4 October 2016, 14:13 | Updated: 4 October 2016, 14:22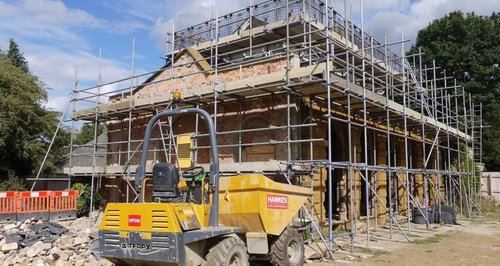 Northampton Borough Council say the re-opening of the historic Delapré Abbey has been postponed.
The authority says the construction project reviving the site as a major visitor attraction is on schedule and in budget - but - there's now an issue with installation of a gas main.
Northampton Council say as a result, the café and events arm of the new Delapré Abbey cannot open on November 1 as planned and the overall opening of the Abbey - planned for early in 2017 - is likely to be delayed.
Cllr Tim Hadland, Cabinet Member for Planning, Regeneration and Enterprise at Northampton Borough Council said:
"This is frustrating but totally beyond our control," said "We know that bringing Delapré back to life is a major construction project and there will inevitably be delays in any project of this scale. Despite the best laid plans, this situation could not have been foreseen.
We are now carrying on with all the work we can do inside the building- creating exhibitions and showcasing the restoration work to the public - while we wait for the utilities work to be completed.
We are working hard to keep everyone informed and will give a new date as soon as we can and while we are all excited to see Delapré Abbey to open as soon as possible, it will be worth the wait."