Huge Scrapyard Fire In Northampton
20 June 2014, 07:06 | Updated: 20 June 2014, 07:20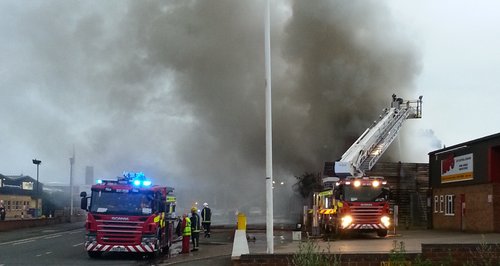 Residents are being warned to close their doors and windows as firefighters tackle huge scrapyard fire in St James Mill area.
There's a warning for people living in a part of Northampton to keep their windows and doors closed, as firefighters are currently dealing with a huge vehicle scrapyard fire.
The blaze broke out in the St James Mill area on Harvey Reeves Road just before midnight last night.
25 firefighters are tackling the flames, with two appliances at the scene and a Cobra Intervention Vehicle from Daventry.
Northampton Fire Service Group Manager Ian McDonald told Heart the plume of smoke can cause health problems.
He said: "The advice coming from myself and Health Protection England is to keep the windows and doors closed of your premise, home and vehicle if you're travelling.
"We have not evacuated any homes and don't plan to."
He also praised the work of firefighters who've been at the scene for more than seven hours:
"I have to compliment the hard work the firefighters have taken to deal with this severe fire."
Public Health England Safety Message
"Residents in areas affected by the smoke should stay indoors, keep their doors and windows closed, and tune in to the local radio station for advice and information. Motorists who have to travel through the smoke should keep windows closed, turn off air conditioning and keep their air vents closed.

Any smoke can be an irritant and as such, if people need to be outdoors, they are advised to avoid outside areas affected by any smoke or ash or to limit the time that they spend in them.
Some of the substances present in smoke can irritate the lining of the air passages, the skin and the eyes. Respiratory symptoms include coughing and wheezing, breathlessness, sputum (phlegm) production and chest pain. If symptoms occur, people should seek medical advice or call NHS 111.

Chemicals in the smoke can worsen existing health conditions, like asthma. People who normally use an inhaler should carry it with them."