Japanese Trains Too Magnetic For East Coast Line
10 September 2018, 17:19 | Updated: 10 September 2018, 17:24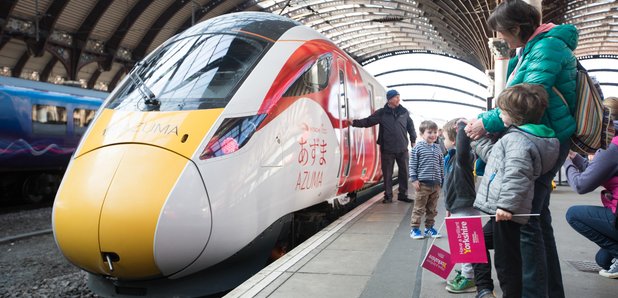 It's been revealed new trains for the LNER Stevenage/Peterborough line are so magnetic - they're knocking out the signals on the east coast mainline.
Tests have found electro-magnetic emissions from the new Class 800 Azuma trains are interfering with the signalling, some of which is 30 years-old.

Network Rail said it would work with the manufacturer, Hitachi, to come up with a solution.

It's after the new "Azuma" trains were found not work properly with signalling equipment.

It is understood that the trains are interfering with signalling - which acts as the railway's traffic light system - resulting in it being put out of use or giving false readings.

The Class 800 Intercity Express (IEP) trains are due to begin operation by London North Eastern Railway (LNER) on the East Coast route from December.

The operator insisted it is still planning on meeting this date, but Transport Secretary Chris Grayling said the trains would "start arriving next year".

A representative for Network Rail says the "electromagnetic emissions from the train" are interfering with signalling."

Adding:

"It is Hitachi's responsibility to demonstrate that the IEP trains can run safely on the East Coast Main Line, accordingly we believe that this issue should therefore be fixed on the train.

However, in the interests of finding a practical solution to ensure passengers benefit from the new trains, Network Rail is looking at mitigation to line-side infrastructure - alongside further modifications to the trains - which will be subject to further testing by Hitachi to demonstrate compatibility."

A Hitachi spokesman said there are a number of signalling systems on the route which are 30 years old and require modifying to operate with modern electric trains.

"Network Rail is planning to carry out this modification work before the Azuma trains enter into passenger service," he said. "This is the same issue encountered 15 years ago when the Pendolino was introduced on the West Coast Main Line."

Class 800 IEP trains were launched in the UK on the Great Western Main Line in October 2017.

The first scheduled journey suffered a leak from an air conditioning unit and further issues resulted in some trains being temporarily withdrawn from service.

Publicly owned LNER began operations in June after Virgin Trains East Coast - a joint venture between Stagecoach (90%) and Virgin (10%) - saw its contract for the East Coast ended prematurely after they failed to achieve revenue targets.