Kettering Couple Jailed For Catasrophic Abuse
7 December 2016, 15:23 | Updated: 7 December 2016, 16:07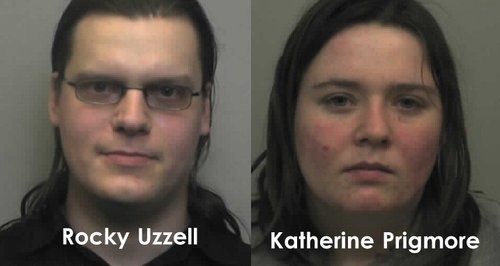 A couple from Kettering who inflicted catastrophic, life-changing injuries to their baby were today jailed at Northampton Crown Court.
The court was told the infant, Isabelle, was just 5 weeks old when she was admitted to Kettering General Hospital on 20 March 2014. She had been previously admitted to KGH on four previous occasions up to that point in her short life.
Her body was limp, described as a floppy episode and she was not feeding properly. She was unresponsive and required resuscitation, and was later transferred to Leicester Royal Infirmary.
Examinations revealed she had two significant bleeds on her brain and a bleed down her spinal column.
The court was told the defendants showed a clear lack of concern for their daughter at the hospital at one point stating that it would give them chance to go and eat at Nandos.
On 21 March 2014 both Prigmore and Uzzell were arrested on suspicion of causing grievous bodily harm. They were later charged in November 2014 with causing or allowing a child to suffer serious physical harm.
On 28 March 2014, further examinations on the baby girl revealed she had multiple fractures to her ribs and right forearm. The following month she was transferred to the Queens Medical Centre in Nottingham.
A neurologist's report presented before today's sentencing hearing stated the girl, as a result of the abuse, had suffered life-changing injuries that would require constant care.
She was left blind and will remain wheelchair-bound for the rest of her life. She has to be fed through a tube and suffers daily epileptic seizures which are resistant to treatment.
Her brain injury has left her with severe learning difficulties. She has no functional speech and would be unlikely to live beyond her late teens or early 20s, the report concluded.
During the investigation and subsequent search of Prigmore and Uzzell's home, officers seized mobile phones, laptops and computer.
Three videos were found on a mobile showing Uzzell forcefully winding a visibly distressed infant while Prigmore could be heard laughing as she filmed it. Another showed Uzzell's hands on the throat of the tiny baby while she was vomiting.
Judge Mayo described the films as being a "significantly aggravating feature".
Injuries were non-accidental and happened on several occasions
Forensic examinations also found the items either contained indecent images of children or had search history relating to indecent images.
Dr Alan Sprigg, a specialist from the National Crime Agency, concluded the baby's injuries were consistent with forceful shaking and, squeezing to the chest. She also had a fracture to her leg which was due to a force and yank type injury.
He concluded the patterns of injury were non-accidental and happened on several occasions, by different mechanisms and all involving force well beyond normal handling.
Detective Constable Spencer Bailey, who led the investigation, said:
"This has been a highly challenging, complex and protracted investigation which began almost three years ago.
At the centre of it is a baby girl who, through the actions of these two defendants, suffered catastrophic injuries that will require a level of medical support for the rest of her life.
Uzzell and Prigmore inflicted horrific injuries on this vulnerable baby girl who was just a few weeks old at the time.
Medical experts have indicated these appalling injuries were caused at different times and involved a level of force that went well beyond the normal handling of a tiny infant.
Furthermore, searches of the defendants' home found that Uzzell was in possession of indecent images, including some at Category A, the most serious level of offending involving abusive images of children.
We are pleased with the sentences handed down by the Judge today. These two defendants displayed quite sickening behaviour and will now have plenty of time in prison to reflect upon the appalling treatment they handed down to this baby.
While we should all be appalled by what this little girl suffered at the hands of these two defendants, we should be at least reassured that the victim is now safe and living outside Northamptonshire."
Rocky Uzzell, aged 29, and Katherine Prigmore, aged 24, both of Sheila Place, Kettering, admitted, in September 2015, to causing or allowing a child to suffer serious physical harm.
Uzzell was sentenced to eight and a half years and Prigmore was sentenced to two years and four months.
Uzzell also admitted four counts of possession of indecent images, including seven Category A images – the most serious level – and received six-months for each, to run concurrently.