Labour Unveil Women Bus In Stevenage
Labour's Pink campaign mini-bus - labelled by some as their "Barbie Bus" has been unveiled in Stevenage today.
Labour say they want more women to take part in the election process, saying some 9-million women failed to cast their votes in the previous election.
Heart was there at the launch today outside a supermarket in Stevenage - and shoppers gave us a mixed reaction to seeing it:
"It don't think it matters really, I think I saw it at a glance, I'd think it was for Cancer Research". Another shopper said: "I don't really vote because they all say the same and nothing happens."
A young woman spoke our reporter who said she was attracted by the colour, but another girl said "I like the colour pink but (when it comes to voting) it doesn't really make any difference to me".
Other shoppers told us: "Catch my attention more than anything else" whilst another said: "A pink minibus? What a waste of money. Get the right policies and then people would vote for them."
Well Harriet Harman, the deputy Labour leader who was in Stevenage to unveil the bus today, has denied the party is "patronising" women with the vehicle's colour scheme, and said "a couple" of women would also be driving the campaign bus.
Ms Harman, who said she ultimately signed off on the colour of the minibus, will spearhead Labour's "woman-to-woman" campaign which aims to visit more than 70 constituencies in the run-up to the general election.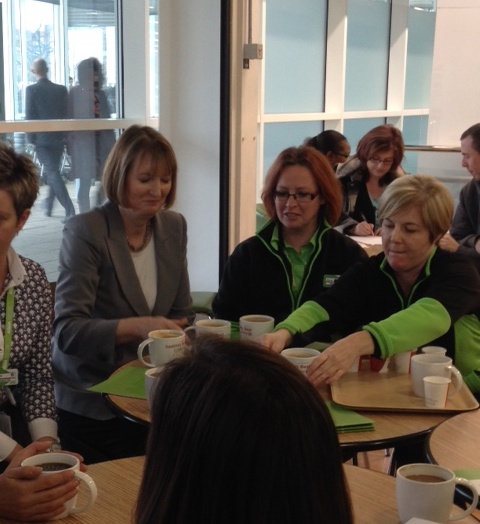 The former Cabinet minister, who was banned from driving for a week in 2003 and fined for careless driving in 2010, joked: "Rest assured, I won't be driving it"'.
Asked on ITV1's Good Morning Britain who had chosen the colour, Labour's deputy leader said: "Well I suppose I signed it off ultimately, but that's the colour. I think the one thing that women will be discussing with us will not be probably the colour of the bus, they'll probably be discussing whether they get the same pay as men in their workplace, the same opportunities, whether they are tearing their hair out looking for childcare, whether or not, if they're looking after older relatives, they can combine that with work."
Speaking later, Ms Harman said the colour of the vehicle - which she suggested was magenta - was "to mark that this was something different. We wanted it to look conspicuous and therefore a white van was not going to do the job".
Tory MP Caroline Dineage said: "The wheels have come off the Labour bus. Getting Harriet Harman to drive around the country in a pink van to try and attract the female vote is as patronising as it gets. This is clearly just another divisive gimmick that the electorate will see through''.