Lamborghini Crashes Into Northants Lake
6 January 2016, 13:25
Pictures have emerged of a Lamborghini that crashed into a lake in Higham Ferrers on Christmas Day.
The white supercar was on its way to Wellingborough when it went into the Higham Ferrers Fishing Club lake on Christmas Day.

A man and a woman who were inside it managed to swim to safety.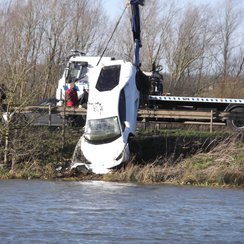 A spokesman for Northamptonshire Police said: "Two calls were made to police - one from a witness and one from a female passenger in the car who was in the water at the time she made the call.
"The vehicle collided with the central reservation barrier and then hit the barrier at the side of the lake before going into the water. It went into the Higham Ferrers Fishing Club lake.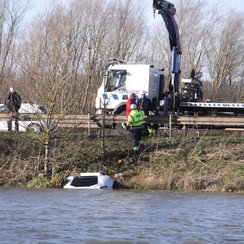 "There were two people in the car, a man and a woman. They both got out and swam to safety while the car sank."

The man and woman were given blankets by passers-by to keep warm after getting out of the water.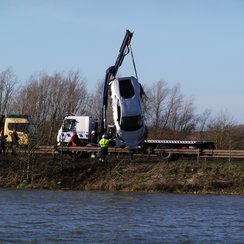 The spokesman said police, fire, ambulance and the Highways Agency attended the call, and added: "We had to close off the roads for a bit so the Highways Agency could fix the barrier.

"All the barriers were fixed by 3.30pm."
The pictures taken by Richard Gell, Councillor with East Northamptonshire Council show the car being removed from the scene several days later at about 10.30am on New Year's Eve.