Letchworth Killer Jailed For At Least 20 Years
21 December 2016, 11:44 | Updated: 21 December 2016, 12:23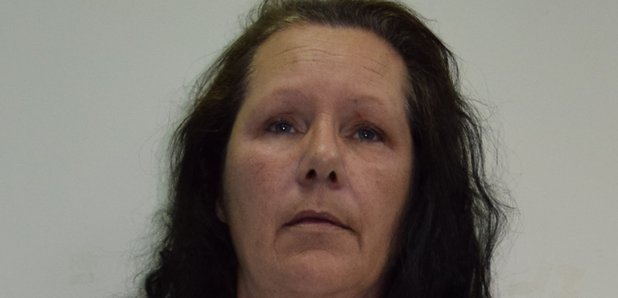 A woman who disguised herself as a man, wearing with a goatee beard, a wig, heavy framed glasses and a hi-vis jacket before murdering her half-sister with a chicken-shaped ceramic pot has been jailed for a minimum of 20 years.
Yvonne Caylor, 53, made herself look like a man before knocking at Nicki Collingbourne's flat.
Nicki, who lived In fear of Caylor, would not have opened the door if she believed Caylor, who she was due to testify against, was the caller.
When the 26 year-old recognised her sister under the disguise she tried to shut the door, but Caylor barged in.
Today at Luton crown court, Judge Michael Kay QC jailed Caylor for life with a minimum term of 20 years. She had been convicted of carrying out the murder on on the 23rd of May, by a jury on Monday.
A Selfish Heartless Killer
The judge told her:
"You are a violent, dishonest and deceits person and ultimately a selfish heartless killer."
Nicki, 26, was found dead in her underwear lying in a pool of blood in Ivel Court, Letchworth, Herts by members of her family the evening after the killing.
CCTV showed Caylor, in the workman's jacket, walking into the building and knocking at Nicki's door.
Caylor, who worked as a welder before suffering a back injury, spent over three hours after the killing clearing up the flat and making her sister's death appear like suicide.
She was due to face trial for burgling Nicki's flat and perverting the course of justice. The charges arose after Nicki had evicted Caylor from her flat in October 2015.
Caylor complained to the police she had been assaulted and when police questioned Nicki, the prosecution said she burgled the flat. No action was taken against Nicki, but Caylor herself was arrested.
She then urged Nicki's mother Rena Hibbert-Jones, who has since died, to give a false account of who owned the property she had taken.
Following the killing, Caylor made plans to flee the country. Computer searches revealed she was planning to drive to Spain and then fly to the US where she then lived with her husband til the summer of 2015.
On the day after the murder Nicki was supposed to collect her mother from the Lister Hospital. When she could not be contacted three members of her family obtained a spare key and on the evening of Tuesday 24 May two of them went in.
Prosecutor John Price QC said:
"They found Nicki Collingbourne. She was very obviously dead. She was lying on the floor of her kitchen.
It was a horrible and very distressing scene. Nicki was lying on her back. Her feet was facing the door.
She was wearing only her underwear. There was a large amount of blood on the floor and it had pooled in the region where her head was lying.
On the floor were a number of shattered or broken pieces of ceramic. They turned out to be the fragments of a ceramic kitchen pot that once it was put together it was in the shape of a chicken. (pictured)"
After sentencing, Nicki Collingbourne's family paid tribute to her, describing her as a 'beautiful young woman with a beautiful soul'.
Nicki's sister Susan Hibbert-Jones said:
"I miss my little sister. She was just beginning on life's journey and hadn't experienced half of what she should have done like getting married and having children. She would have made a wonderful mum."