Local Cafe Owner On Immigrants Found On M1 Near St Albans
10 August 2015, 06:22 | Updated: 10 August 2015, 06:33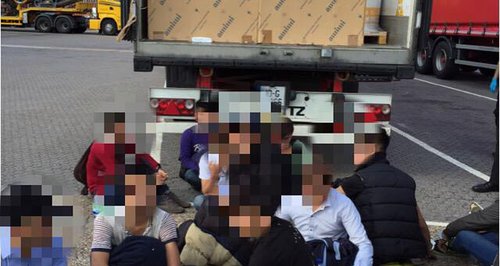 After 17 suspected illegal immigrants were found hidden in a lorry near St Albans at the weekend, a local cafe owner describes the conditions migrants are often found in.
Donna Morfett runs a local cafe and says it's a common occurrence there, close to junction 9.
She said: "Generally they're quite tired because they've been in the back of a lorry for hours and they're quite frightened.

"It can be women and children as well - they really are very scared when they get off so they're not intimidating at all."
Donna also spoke of one occasion when a group of migrants were found in a refrigerated lorry.
"There were children, women. They'd been in a cold lorry for I think it was about 17 hours.

"So they were very thirsty, tired, hungry and poorly."
The group were found by police stowed away in a lorry on the M1 after a member of the public reported seeing suspicious activity in the vehicle.

A spokesman for Hertfordshire Police said the driver of the lorry - a 40-year-old man from Poland - was arrested on suspicion of assisting people entering the country unlawfully.

A member of the public called police shortly after 4pm on Saturday to report suspicious activity on a lorry on the M25.

That person followed the lorry as it made its way onto the M1 before police stopped it close to Junction 9 of the M1 in Flamstead, Hertfordshire.

The police spokesman said: "Eighteen people who are believed to have entered the UK illegally on the lorry were taken into custody for their safety.''