Luton High Street Hosts 'Holi'-Style Festival
9 August 2015, 07:18 | Updated: 9 August 2015, 09:07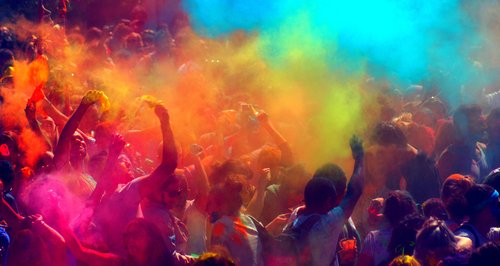 Luton High Street will be covered in colour this afternoon thanks to the The Colour of Time event.
Inspired by the Holi Festival, The Colour of Time will be a rainbow eruption of coloured powder, music, dance and theatre.

There are opportunities for people to take part in the dance performance, help at the event or just come along and enjoy the fun.
Dance workshops will be held in the lead up to the event and anyone can register to take part. These dances are easy to learn and no previous dance experience is required.

"This is a fantastic opportunity for everyone in Luton to get together and create what we hope will be an amazing and memorable event" said Karen Perkins, Director of Arts and Museums, Luton Culture (Luton Creates consortium lead partner)

The Colour of Time is presented by Luton Creates, one of 21 national Creative People and Places (CPP) programmes funded through Arts Council England to enable more people to engage with and be inspired by the arts.

More information on The Colour of Time or the Luton Creates project can be found via #colouroftimeluton, on twitter @lutoncreates or facebook Luton Creates.

The Colour of Time is part of Global Streets, a Strategic Touring Programme of international outdoor arts funded by Arts Council England.