Luton - Teens Jailed After Mall Bloodbath
20 September 2018, 17:27 | Updated: 20 September 2018, 17:41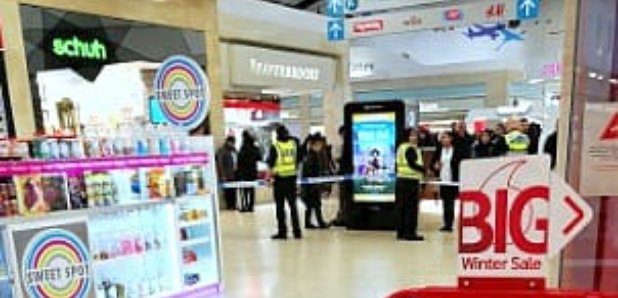 Two teenagers have been jailed for a total of 12 years for a knife and machete attack on each other inside Luton Mall.
Families and young children had looked on in horror as the teenagers lashed out at each other with blades including a machete and a large serrated hunting knife.

Trails of blood were left as Che Stephens, Luca Sanni and Imani Pobi Da Silva, who are now all aged 18, become embroiled in the dangerous and bloody knife fight which left Sanni with a life threatening injury, Luton Crown Court heard.

The fight broke out in The Mall in Luton on a Sunday in January 2018.

CCTV captured Stephens stabbing Pobi Da Silva, who was then aged 17.

Seconds later, Sanni confronted Stephens with a machete, which left his hand as he swung the weapon in his direction.

Stephens was caught on CCTV stabbing Sanni, before calmly fleeing the scene.

Sanni, of Luton, was sentenced to five years after being found guilty of attempted grievous bodily harm and affray.

He was also jailed for eight months, to be served concurrently, after pleading guilty to possession of a bladed article.

Pobi Da Silva, of Luton, was sentenced to 12 months after being found guilty of possession of a bladed article.

Stephens, of Bedford, was sentenced to seven years and six months for wounding with intent and 18 months after pleading guilty to possession of a bladed article.

Both sentences are to run concurrently.

OFF DUTY DOCTOR SAVED LIFE

An off-duty doctor has described following a trail of bloodied footprints to give life-saving care to a stabbed teenager collapsed in a pool of blood.

Yasin Fatine, 29, was playing Pokemon Go when he was pulled away from his screen by screams and shouts as three teenagers fought with knives.

Mr Fatine told the Press Association:

"I didn't want to get involved, but then I saw the footprints. I followed the trail for maybe 150 metres and at the end there was a pool of blood just gathering.

The injured guy was very pale and he had a bad leg wound. He was quite delirious, almost sliding in and out of consciousness.

I thought 'based on the amount of blood he's losing he hasn't got long', so I grabbed his belt and wrapped it right around as a tourniquet.

If he'd been left for a few minutes more he could have died because of the blood loss."

Mr Fatine was attending to Luca Sanni, 18, who had been stabbed by Che Stephens, also 18, inside the town centre shopping complex after a row.

The doctor, who did work at Luton hospital but is now based in Watford, added:

"Shopping centre staff were using first aid pads which weren't really doing much.

Another boy had an arm wound but he was sitting up, he looked okay.

The ambulance arrived around five minutes after I got there.

This sort of thing happens a lot at work so I'm used to it. We're taught to take charge if we come across these kinds of situations.

I've had to deal with collapses and heart attacks out of work before - but this was very different."