M1 Suspect Substance Latest
20 September 2017, 14:45 | Updated: 20 September 2017, 15:20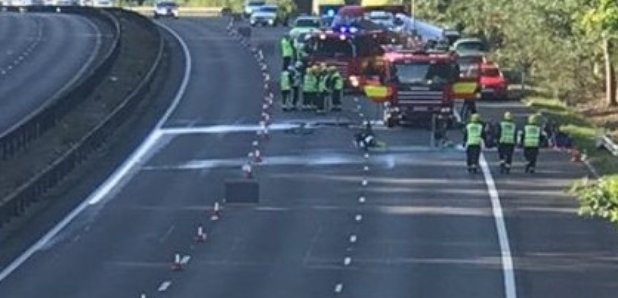 Thames Valley Police say they are still analysing the suspicious object found on the M1 yesterday, but believe it's possibly hydrochloric acid.
Inspector Scott Long said:
"We are appealing to anyone who knows why or how this object was left under a bridge about two miles past the Newport Pagnell services on the southbound carriageway of the M1. The object Is a 5 litre container in a large black refuse bag which found at about 7.30am yesterday.
The object has now been removed from the scene in a secure container but is still being analysed, however, we do know the substance it is a highly corrosive material, possibly hydrochloric acid, which has reacted with another substance causing it to discharge onto lane one and lane two of the southbound carriageway.
We are keeping an open mind as to how the object was left at the scene but at this stage we are investigating the incident as an offence under Section 23 A of the Road Traffic Act, which is placing an item on a highway or carriageway with intent to cause danger to other road users."