M1 Suspected Immigrants From Iran, Iraq & Syria
24 September 2016, 08:42 | Updated: 24 September 2016, 09:09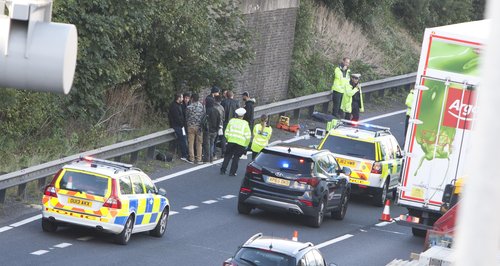 The UK Border Agency (UKBA) have told Heart the lorry driver who was stopped by police on the M1 near Luton with a lorry full of suspected illegal immigrants, was from Lithuania.
The 47 year-old's HGV was tracked by Essex Police on Thursday lunchtime (around 1.50pm) after calls of concern to the force there were a number illegal immigrants were in the chiller section of the Romanian registered lorry.
Essex Police then tracked the lorry out of the county, followed it through Hertfordshire and eventually brought it to a stop on the northbound M1 by junction 11 at Luton/Dunstable.
The motorway, by this time (3pm) was approaching the busy afternoon period was temporarily shut as it fear some of those on board might escape - none did.
Several were treated at the scene for breathing difficulties after being rescued from the refrigerated rear of the lorry. It's not known how long those inside had been in the cool section.
The driver has been arrested on suspicion of facilitating illegal immigration into the UK.
Those inside the lorry, a group of 14 men and women - a youngster under 18 and one child, say they're from Iraq, Iran and Syria - and have been detained by UKBA.