Major Investment Secures Vauxhall Jobs In Luton
4 April 2018, 10:56 | Updated: 4 April 2018, 11:07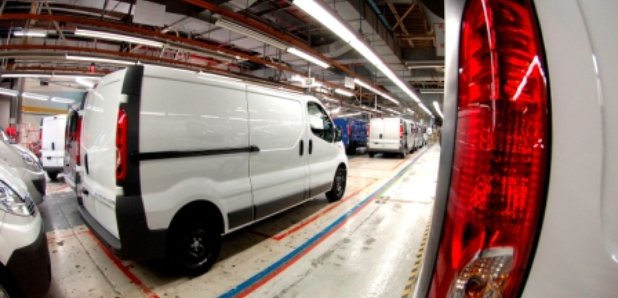 Vauxhall is to build a new van at its Luton plant.
Today's announcement will safeguard the 1,400+ jobs at the firm's Luton factory and is also expected to create more roles.
The company said the new van could have been built in Germany or Poland, but Luton is the only plant with a paintshop, which is one of the reasons for the decision.
The move means that Peugeot and Citroen vans will be built alongside the Vivaro.
PSA Group officials admitted there was uncertainty over Brexit, but extra capacity is needed now.
STATEMENT FROM LUTON BOROUGH COUNCIL
Luton Council has agreed an investment package with Peugeot SA to create new jobs and secure a bright future for the town's Vauxhall van factory and the livelihoods of nearly 1500 workers. The action will also protect the many local supply and support jobs which depend upon the operations of the plant.
As part of its commitment to keep car manufacturing in the town, the council is offering a £3.2m grant to Peugeot SA to provide assistance towards the creation of over 200 new jobs that will be created as part of the company's plans.
The overall package the council has been able to offer Peugeot PSA includes a range of attractive incentives: reduced business rates; the purchase of reduced cost energy from its supply lines and support for the recruitment of the additional workers needed for the plant's expansion.
The council is committed to work to secure permanent jobs at the plant for the over 50's and long term unemployed. To this end it will provide support for a work taster session and will support 50% of the salary costs for the first year of employment.
Cllr Hazel Simmons, MBE Leader of the Council, said "This is wonderful news for the town. In many peoples' minds Vauxhall and Luton are firmly intertwined. The plant has been a key part of Luton's economy for generations and, since PSA acquired it last year we have been working hard to ensure its future. We are delighted PSA has confirmed its commitment to the plant. Not only will this secure thousands of jobs but will provide additional opportunities for others. As part of the Luton Investment Framework we have consistently said jobs, skills and training are central, and once again we have been able to deliver on this. Vehicle manufacturing is synonymous with Luton and is set to remain so for years to come."
Central government has also played a significant role in the car giant's ongoing commitment to Luton. The Department for Business, Energy and Industrial Strategy (BEIS) will provide a grant which will be used to assist in the installation of a new manufacturing platform that will allow the plant to produce the next generation of Vivaro vans in the town.
Secretary of State for Business, Energy and Industrial Strategy Greg Clark, said: "Today's decision is a vote of confidence in Vauxhall's world-class workforce and the UK's strong automotive sector, safeguarding more than 1,400 jobs and ensuring the future of the Luton plant well into the next decade. I welcome the excellent joint working with Luton Council that has helped achieve this. We also continue to work with PSA on the long-term success of its wider UK operations. We have been clear in our commitment to the automotive sector which is why, through the Industrial Strategy, we established a landmark Automotive Sector Deal that will see us working with industry to put the UK at the forefront of new technologies."
Michael Loscheller, CEO of Opel/Vauxhall, said: "This excellent news for Luton is also a clear demonstration that our PACE! Plan is being executed across all European countries. It is also a clear recognition of the skilled people who have customer satisfaction at the core of their priorities. As we have often stated, we have our future in our own hands and we need to unleash the full potential of the employees"