Major Spruce Up Starts For Dunstable High Street
24 September 2018, 08:47 | Updated: 24 September 2018, 12:31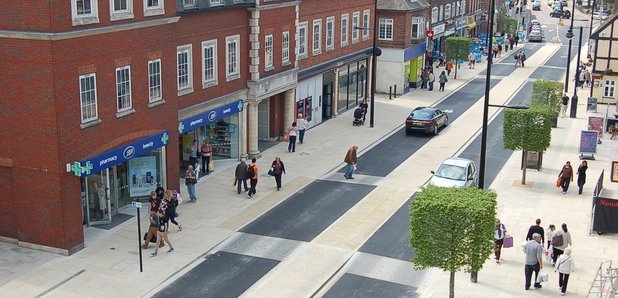 By the end of the year, they'll be new facilities for cyclists and market traders and the street itself will be made wider with more greenery to create a boulevard style High Street.
Big new works start today in Dunstable to smarten up the High Street.
It's after residents, visitors and workers in the town told the council pedestrians should have a higher priority.
The improvements will take around 12 weeks. Initially the council is starting by removing the railings and some other unnecessary street clutter from the High Street, so that pedestrians can get to different areas around town.
The work includes four 'gateway' features at key locations to help to define the town centre, and to indicate to drivers that they are entering a pedestrian-friendly area.
The council will also be making improvements to the Middle Row shopping area. There will be new cycle stands, and feature lighting to improve safety and make the area more attractive in the evening.
There will also be new trees and planting areas that have built-in drainage features to help prevent the flooding that the town has sometimes suffered from. And the local market traders will be able to benefit from better access to electricity points.
Councillor Nigel Young, Executive Member for Regeneration at Central Bedfordshire Council, said: "We want to build upon Dunstable's existing heritage to create a new and improved High Street. We want to make it people-orientated, with the feel of a market town that caters to the needs of both locals and visitors.
"We want to move away from the High Street being effectively a dual carriageway road. We'll be widening the pavements to help slow traffic down and give the area back to shoppers. And we're removing the guard rails and changing the road crossings so that they are at the points where people do want them.
"All the changes will make a noticeable improvement to the town, and we will continue to bid for more funding, so that we can undertake further improvements next year, including to the layout of the main crossroads."