Man Jailed After Wolverton Crash Kills 3
25 April 2018, 16:24 | Updated: 25 April 2018, 16:31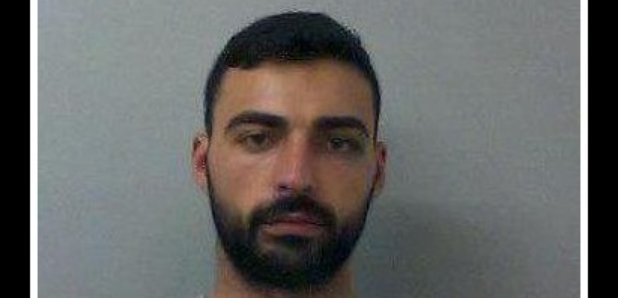 A motorist has been jailed for causing the deaths of his wife and two friends in a collision.
Florin Oprea, aged 25, of no fixed abode, was sentenced yesterday (24/4) to nine-and-a-half years' imprisonment for driving and breach of court bail offences at Aylesbury Crown Court.
He pleaded guilty on Friday 13 April at the same court to three counts of causing death by careless driving while over the prescribed limit, three counts of causing death while uninsured and three counts of causing death while unlicensed to drive.
At 10.20pm on 14 December 2016 Oprea lost control of his BMW car which was travelling in Stratford Road, Wolverton, and collided with a Hyundai.
Liviu Nacu, aged 23, who had been a passenger in the BMW, died at the scene. Another passenger of the BMW Andrei Dumitrescu, aged 20, died in hospital on 23 December 2016.
Opera's wife, Ancuta Oprea, aged 23, who had also been travelling in the car, died in hospital on 15 December 2016.
Florin Oprea was charged in connection with the offences on 30 March 2017.
On the 2 May 2017 he appeared at Milton Keynes Magistrates' Court and was bailed to appear at Aylesbury Crown Court on 5 May 2017.
However instead he fled the country the following morning. A European Arrest Warrant was issued by Aylesbury Crown Court.
Thames Valley Police was notified that he had been arrested in Romania on 22 March this year. He was extradited to the UK on Thursday 12 April.
Senior investigating officer PC Phil Hanham, of the Serious Collision Investigation Unit, said: "Oprea's wife had travelled to the UK to visit him for his birthday and on that night in the run-up to Christmas 2016, his standard of driving led to her death, leaving her young son without a mother, and the deaths of two of his friends. Instead of facing up to his actions in court, Oprea fled abroad in an attempt to evade justice. "While tragically nothing will ever bring those who died back to their loved ones, it was vitally important we did everything we could so that the families could have a chance to see justice being done."
Chief Inspector Andy Storey, from the Joint Operations Unit for Roads Policing, said: "Thames Valley Police will pursue those who offend to ensure every effort is made to bring them before the courts. This case required close teamwork among all of the agencies involved, including the National Crime Agency and Crown Prosecution Service, to ensure Oprea was returned to the UK to face the consequences of his actions."
FAMILY STATEMENT
The following is a statement released on behalf of the families of Liviu Nacu and Andrei Dumitrescu who died following a fatal collision on 14 December 2016.
"Our families wish to say that after such a prolonged period since the tragic night in December 2016, justice has at last been seen out.
"Our families were devastated by the cruel taking of the lives of Liviu Nacu, Andrei Dumitrescu and Florin Oprea's own wife Ancuta.
"Our lives were ripped apart that evening by the thoughtless actions of Florin Oprea. We were further devastated when we heard that he had fled the UK after the first court hearing, in breach of his bail and returning to Romania.
"Thames Valley Police were quick to take action and issued a European Arrest Warrant. At all times we have been updated every step of the way by the police and took comfort in knowing that Florin was being hunted down to be returned to face the consequences of his actions.
"He drove a car whilst over the drink drive limit with no driving licence or insurance. He had no regard for anyone in the car with him as he drove on the Stratford Road Wolverton that evening where he lost control, crossed the road hitting a car travelling in the opposite direction.
"We want the occupants of the other car involved to know that the family do not hold them responsible in any way and wish them well for the future. Our hearts go out to Ancuta's family in Romania and her young son who has lost his mother.
"Special thanks must go to all those who contributed to the Just Giving page raising money which allowed for our loved ones bodies to be returned to Romania for burial.
"We were in court to hear the judge sentence Florin Oprea and take some comfort in knowing that justice for those who died has been served. The families wish to thank Thames Valley Police, in particular PCs Sandra Terry and Phil Hanham for their persistence in pursuing Oprea and bringing him back before the Crown Court.
"We also thank the National Crime Agency, the Crown Prosecution Service and the Judge who passed sentence on Oprea.
"This case gives a very strong message to all, you may run but eventually justice will prevail. Our lives have been never been the same since the collision but we hope that we are now able to move forward, supporting each other as we do this."