Marsh Farm - Official Phase 1 Opening
7 September 2017, 19:22 | Updated: 7 September 2017, 19:25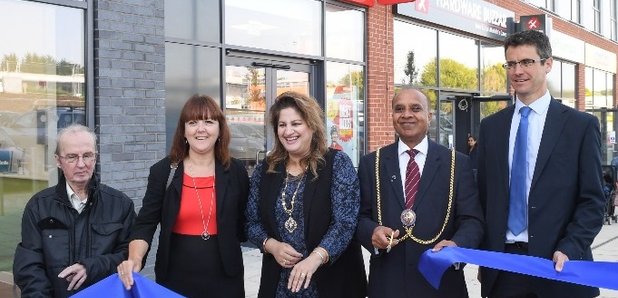 The first part of a multi-million pound re-generation of Luton's been completed - and Marsh Farm - can now boast some pretty smart new buildings.
This morning (7 Sep) the Mayor of Luton, Cllr Mohammad Ayub, cut the ribbon to mark the £25m completion of the first phase of Luton Borough Council's exciting Marsh Farm regeneration project.
Seven retail units have been built, in addition to 24 new affordable one and two bedroom flats for local residents.
The next phases will be the demolition of the Purley Centre and the construction of a further 93 new homes which are scheduled to be completed by mid-2019.
Together with significant road alterations and associated landscaping works, the project is set to completely rejuvenate the whole area.
Cllr Tom Shaw, Portfolio Holder for Housing, said:
"This is a significant milestone which will make a positive difference to Marsh Farm. This low-cost, high quality accommodation will change the lives of Luton residents for the better."
Luton Borough Council says:
"The Marsh Farm project is a significant part of the Council's wider Luton Investment Framework - a plan for major town-wide transformation.
Together with partners, the Council is on schedule to secure £1.5 billion investment to transform the town and create 18,500 quality jobs for local people; while driving improvements to health and wellbeing, creating opportunities for residents, raising aspirations and enhancing prosperity across the town."