Maulden Cottage Has Van Embedded In Front
11 October 2017, 13:17 | Updated: 11 October 2017, 13:22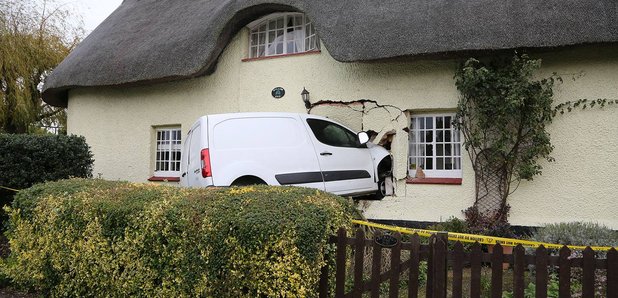 Neighbours in Maulden, Bedfordshire have rallied around a couple whose home was partially destroyed when a white van ploughed into it last night.
Val and Steve Fossey were about go to bed when the van came off a bend on Ampthill Road and went through a hedge before embedding itself in the front of the 16th-century listed cottage.
Val, 67, said:
"We were in the living room at about a quarter to eleven. I was about to go up to bed, but my husband said to watch the end of the news.
There was a dreadful noise - like an earthquake. This van came flying over a hedge and crashed into our hall and kitchen. If I had left the room I don't know what would have happened."
Neighbours not only held the driver until police arrived, but gave Val and Steve a place to stay overnight.
One resident who saw the van stuck in the side of the old cottage. said: "It looks like a piece of modern art."
Bedfordshire Police have confirmed a 34-year-old man from Maulden was arrested at the scene on suspicion of being unable drive through drink or drugs and is currently in police custody.