Mental Health Suffers - Supported Well By Police?
10 October 2017, 00:00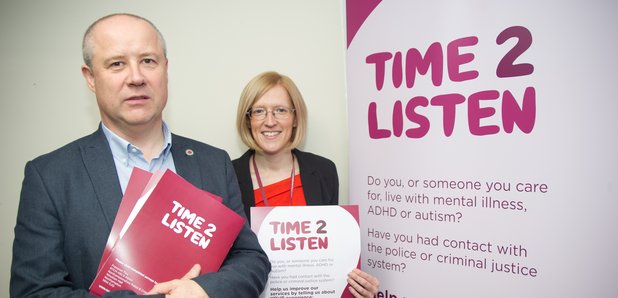 On World Mental Health Day, Northants Police want to know if people suffering mental health are treated fairly by the police and the justice system.
It's as the Northamptonshire Police Commissioner launches his Time2Listen mental health consultation today.
Commissioner Stephen Mold has gone live with the consultation today at www.time2listennorthants.co.uk
It's focussed on gaining a better understanding of the experience of people with mental illness, ADHD and Autism - and their interactions with the police and criminal justice service in Northamptonshire.
Northants Police spends +20% of its time supporting victims of crime and detainees with mental health needs, so over the next three months, the commissioner wants to hear from local people to get a true picture of how effective the police and the criminal justice services are in supporting people with mental illness and what can be done to improve those interactions.
Stephen Mold says:
"This is a really important consultation. One in four people experience mental illness, and while many have little or no contact with the police, it's vital we take the time to listen and find out if individuals with mental ill health who are in contact - be it through their neighbourhood, as a victim or witness, or someone who has been involved in crime - are receiving the right support from the police and from the wider criminal justice system.
We know there are some people who don't receive the right help and fall through the gaps, and others who actually require help from health and social care agencies rather than the police. We must make sure people can access the support they need.
A high level of police demand is linked to mental health related incidents, and a significant proportion of the offending population experience poor mental health, so this is an area that really deserves a focus. It's important we identify mental health issues among victims, suspects and offenders at an early stage, so the right support is provided throughout the criminal justice process.
Through this consultation I want to hear from as many people as possible - we know there are lots of people with mental illness, ADHD and Autism that have had a very positive experience and received really good support, but similarly we know that for others this was definitely not the case."
Helping Police Achieve More Effective Support For Mental Health Sufferers
The consultation is being led by Helen Cook, Head of Involvement and Communications at the Office of the Police and Crime Commissioner.
She said:
"As well as speaking to people with experience of mental illness, Time2Listen will also consult with professionals and support agencies working within the criminal justice system, such as police officers, probation officers and mental health workers.
It's important to not only capture the views and experiences of victims, witnesses and people who have been involved in crime but from professionals too. We want to capture their feedback - both positive and negative on the effectiveness of current practices and discuss any potential barriers to improving services for people with mental illness, ADHD and Autism."