MK Crime Gang Jailed For 37 Years In Total
Members of an organised crime group have been sentenced to more than 37 years in prison for a conspiracy to supply drugs in Milton Keynes.
The sentencing of seven men at Aylesbury Crown Court was the result of a covert Thames Valley Police operation which lasted between July 2014 and April 2015, during which an estimated £3.7m worth of drugs was seized.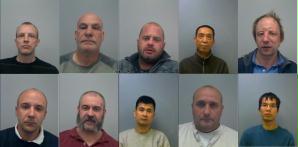 The following people were sentenced:
Neil Josling, aged 46, of Akeley Wood Lodge Road, Akeley, was sentenced to six years' imprisonment having been convicted. of one count of conspiracy to supply a controlled drug of Class B – (cannabis) and one count of conspiracy to supply a class B controlled drug – (other) at the same court in May 2015
Quan Nguyen, aged 33, of High Street, Harlsedon, was sentenced to nine years' imprisonment
Quang Hai Do, aged 59, of Heavitree Close in Plumstead, London was sentenced to six and a half years' imprisonment
Nguyen and Hai Do were both convicted by a jury at Aylesbury Crown Court of one count of conspiracy to supply a class B controlled drug following a week-long trial which concluded on 21 January 2016.
Lee Chivers, aged 52, of no fixed abode, was sentenced to five years' imprisonment
Robert Wallman, aged 39, of Springfield Boulevard, Springfield, Milton Keynes, was sentenced to four years and two months' imprisonment
Marc Daley, aged 37, of Folly Road, Deanshanger, Northamptonshire, was sentenced to three years and eight months' imprisonment
Richard Bolden, aged 49, of Glebe Road, Deanshanger, was sentenced to two years and ten months' imprisonment.
Chivers, Wallman, Daley and Bolden were all convicted of one count of conspiracy to supply a controlled drug of Class B – cannabis. (herbal).
Three other offenders have previously been sentenced for their part in the conspiracy;
Michael Todd Roberts, aged 34, of Tarry Court Bradville, Milton Keynes, was sentenced to 16 months' imprisonment
David Doel, aged 44, of Bradwell Road, Bradville, Milton Keynes, was sentenced to 18 months' imprisonment
Tai Tran, aged 31, of Beech Close, West Drayton, was sentenced to five years' imprisonment
They were convicted of conspiracy to supply Class B drugs at earlier hearings.
The Thames Valley Police Serious and Organised Crime Unit (SOCU) launched a covert operation in July 2014 into the organised crime gang (OCG) which was based in the Milton Keynes area and headed by Josling.
Josling and his group operated an extensive drugs supply network and would travel sometimes hundreds of miles in a day to collect large consignments of herbal cannabis which were then redistributed across the country.
The supply sources were identified as two Vietnamese networks, one of these headed by the defendant Nguyen who employed the defendant Hai Do as a driver to meet the Milton Keynes couriers, and the other was headed by Tran.
Tran was believed to be the head of a drug supply network based in London which reached across the UK.
The cannabis from Nguyen and Tran's networks would then be conveyed early in the morning back to a house in Glebe Road Deanshanger, (occupied by Bolden). Josling and other criminal members used this house where the kilos of drugs would be repackaged for onward sale.
The defendants Daley and Wallman would then deliver large amounts of drugs to local Milton Keynes dealers. Todd Roberts and Doel were two such local dealers who were previously sentenced for their parts in the conspiracy.
On 27 April 2015, a surveillance team witnessed Chivers and Wallman arriving at the house in Deanshanger and saw Chivers remove a large holdall and several large plastic bags from his vehicle before they both went into the house.
A warrant was executed under the Misuse of Drugs Act and 10kg of herbal cannabis was recovered.
On the same day 13 warrants had been executed in Aylesbury, Milton Keynes and London, resulting in the arrest of 15 people. Drugs with a street value of £125,000 and approximately £50,000 in cash were seized.
£10,000 in cash was seized from the freezer at the home address of Nguyen and his partner Ha Trinh.
Tinh had previously been sentenced for her part in money laundering, receiving a 12 month jail sentence suspended for two years.
SOCU officers were able to show the court the scale and extent of the gang'senterprise, demonstrating that the group had made more than 40 trips around the country during the conspiracy period to collect drugs, with an estimated amount of 300 kgs, to distribute around Milton Keynes.
In total, drugs with a street value of £3.7million were seized during the operation.
A full financial investigation under the Proceeds of Crime is ongoing into key individuals which will look to identify and recover any assets obtained from their criminal behaviour.