MK Guide Runner Helps Claim The Gold
10 September 2016, 07:19 | Updated: 10 September 2016, 07:23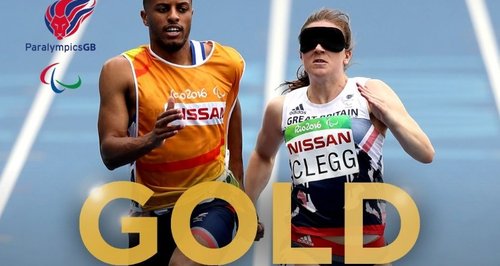 Milton Keynes guide-runner Chris Clarke and his runner Libby Clegg endured a rollercoaster of emotions in Rio yesterday (Friday 10th), after being reinstated before upsetting a partisan crowd to win Paralympic gold in Rio.
The 26 year-old partially sighted runner beat the T11 100 metres world record previously held by Brazil's Terezinha Guilhermina in Friday morning's semi-final, but then a rival lodged a protest.
Britain successfully appealed against the claim that guide Chris Clark had dragged her in the race, contrary to regulations.
It meant the 11.91 seconds world record stood and Clegg and Clark could run in the final.
And Clegg, in her third Paralympics, claimed her third medal after silvers in the T12 class at Beijing 2008 and London 2012, with victory in 11.96secs. Guilhermina was disqualified after finishing fourth.
"It's been a bit of a tough day," Clegg said.
"I thought they were going to protest Chris being so close on the line with me, because we know that we cut it fine. I never thought it would be through dragging.
I'd never what to dishonourably win a medal or cheat or break the rules in any way.
I was a little bit upset that allegation had been made against me.
I'm just glad I've got a fantastic technical support team that fought my corner."
Clark described himself as being "like John Terry", the Chelsea captain who in 2012 lifted the European Cup in full kit after a Champions League final for which he was suspended.
"She did all the work, I'm just here, like John Terry," Clark said on Channel 4.
Clark, who teamed up with Clegg in February, was concerned that, like Terry has been known to do, he had made a major error at a crucial moment.
"I was just thinking 'oh God - I hope I haven't ruined her chances'," he added.
Clegg suffers from a deteriorating eye condition which means she only has slight peripheral vision in her left eye and she is registered as blind.
Her eyesight has deteriorated, leading to her reclassification from a T12 to a T11 sprinter - and meaning she had to compete in a blindfold, something she did for the first time at July's Anniversary Games in London.
"It is still terrifying. It's really exhilarating at the same time though," she added.
"It is a little bit daunting listening to that many people, especially cheering for someone else."