MK's Pre-Birthday Weekend Celebrations
21 January 2017, 07:14 | Updated: 21 January 2017, 08:40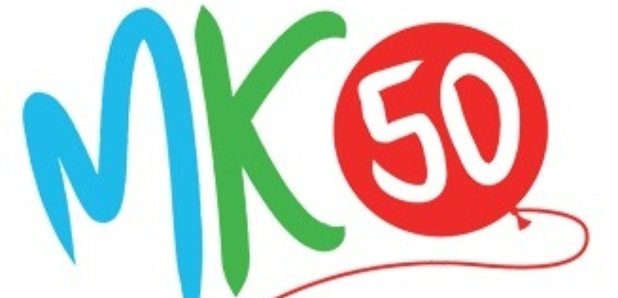 Just ahead of the official 50th birthday of Milton Keyes, the "new city" is celebrating this weekend.
Thousands of people have already flocked to the must-see exhibition A New City Comes to Life at Middleton Hall, centre:mk, which features a host of exhibits from dinosaur bones to the driverless pod which has become synonymous with MK's smart city research and development.
There's lots going on around MK over the birthday weekend from 20-23 January from open studios to cheerleading lessons, much of it free, including:
* Bletchley Park is giving away 500 free tickets per day on 21 and 22 January to anyone with an MK postcode, as well as offering a year round discount on Mondays.
* Free children's and adults sessions, and family fun day activities at local sports/leisure centres including Stantonbury, Woughton, Shenley and Bletchley - check details with your local centre.
* Free entry to MK Museum today (Saturday 21st Jan), from 2-4pm.
* Wolverton Tennis Club 9.30am - 1pm kids only all ages - free coaching, fun games and competitions - you could win FREE MEMBERSHIP! 1pm -4pm Adults and Family - free tennis and coaching, play games, chance to win Free Membership worth £120 or 50% discount or 50 hours free play. Hot Food and Drinks all day from 50p.
* Simpson Village Hall (10am) A guided walk around Simpson looking at the new developments that were some of the first that were built as part of the expansion programme.
* York House Centre - Bygone Stony Exhibition (2-5pm)
The highly-popular exhibition returns with more photos and news clippings and less Blu-Tack, capturing Stony Stratford from Victorian times to not-so-long-ago. Come and spot your granny, or possibly yourself at York House youth club or at St Mary's School, or in one of the lost pubs, or on a tram to Wolverton! Photos etc kindly donated by local residents and ex-residents. Around 200 items, with some absolute gems – the trams, the old pubs and shops, the long-gone houses and cottages, Jubilee and other celebrations, soldiers marching to war, and a High Street with NO TRAFFIC (except a horse and cart)! This will be in the ground-floor Beechey Room, so please use rear entrance.
* CMK Library "On the Verge Underpasses Project" (2-330pm) The first in a series of celebrations featuring the heritage of Milton Keynes. This event will unveil the new interpretation panel on Secklow Mound, a scheduled ancient monument. Communities from Conniburrow, Downs Barn, Fishermead and Oldbrook have been involved in an exciting project learning about the history of Central Milton Keynes; Goblins Ditch, Pigs Hill and the Anglo Saxon meeting place of Secklow Mound.
* Bletchley Park - 50 Years of Computers in Milton Keynes at the National Museum of Computing (12-5pm today and tomorrow). Discover the Past, Present and Future of MK from the birth of modern computing with the Colossus during the Second World War to wearable computing of today such as the Oculus Rift. Also find out where MK could be in 50 years' time with MK:SMART and the creation of smart cities.
* Middleton Hall - Building and cutting of Milton Keynes Birthday Cake (Saturday and Sunday)
The official birthday cake for Milton Keynes is a collaboration of both professional and amateur cake decorators coming together in Milton Keynes to create a 6ft x 4ft cake which reflects key identifiers both past and present in Milton Keynes.
Cutting of the cake on Sunday 22nd at 2pm.
* The launch of 50 Walks for MK50 on Monday 23 January to celebrate the fantastic walking groups, trails and events which take place across MK, coordinated by The Parks Trust and Milton Keynes Council.
Further details of all events - including many more for the birthday weekend itself - are available HERE www.MK50.co.uk
Milton Keynes Mayor Steve Coventry said:
"We've had some momentous moments in Milton Keynes such as Her Majesty the Queen's visit to open the MK Dons stadium, and playing host to Rugby World Cup 2015. But this is the big one - 50 years of Milton Keynes and a half century definitely not out. Since I arrived here I have seen the city flourish over the past decades and it's now confidently settled into its maturity, going from strength to strength.
I want everyone to join in the celebrations. The 50th Birthday weekend is the start of an action packed year for MK."