More Clown Sightings In Hertfordshire
11 October 2016, 14:21 | Updated: 11 October 2016, 14:24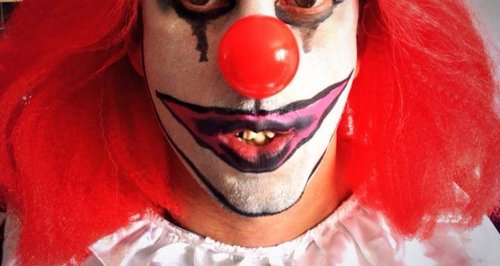 Hertfordshire Police say they've now responded to at least 7 reports of people intimidating members of the public by dressing up as clowns.
A spokesman from Herts Police said:
"It would seem in some instances those dressing up have no idea of the genuine fear they are causing to vulnerable members of the public and we would urge people think about their behaviour regardless of the motive behind their intentions.
Some of the incidents reported to police to date, include:
* Thu, Oct 6th at around 9.51pm, a man dressed as a clown was approaching shoppers leaving Tesco in Jarman Park, Hemel Hempstead.
* Fri, Oct 7th at 8.32pm, a woman reported that she was being chased by clowns in London Road, Sawbridgeworth. Officers attended immediately and there was no trace of the woman or the clowns.
* Fri, Oct 7th at 9.24pm it was reported that there was a man dressed as a clown in Poles Lane, Ware. Officers attended and no clown was located.
* Fri, Oct 7th at 11.02pm it was reported that the caller had been told there was a clown in Six Hills Way, Stevenage, at around 6pm that day.
* Fri, Oct 7th at 11.06pm it was reported that a teenager had been involved in a verbal altercation with a man in a clown mask in Burns Road, Royston.
* Tue, Oct 11th at just before 7 am a boy was walking through St Nicholas' Fields in Stevenage where he saw two people dressed as clowns scaring people
* Tue, Oct 11th at 8.20 am a girl walking through an Alleyway by Roe Hill, Hatfield, which comes out on to Woods Avenue heard a noise behind her and turned around to see a man wearing a clown mask.
Superintendent Richard Liversidge said:
"Although the people dressing up as clowns may think they are taking part in some harmless fun, they should be mindful of the impact their actions may have on others and be aware that any behaviour that causes another person alarm or distress could lead to them being arrested under the Public Order Act 1986.
We want people to enjoy themselves as we approach Halloween but not at the expense of others.
In one incident a man dressed as a clown was approaching shoppers outside Tesco in Jarman Park, Hemel Hempstead, whilst being filmed by his laughing friends. They may have thought this was a comical prank but it was causing distress to others.
It is also important that people use social media responsibly and do not post items that could further fuel this inappropriate activity and create unnecessary fear within the community."
He added:
"At this stage it is unclear whether some of these reports have been made by hoax callers. I'd like to remind the public that the Constabulary will take robust action against anyone who makes hoax calls to the force as this can divert precious resources away from real emergencies."
Anyone who witnesses or an experiences an incident which has / or is causing harassment, alarm or distress should call Hertfordshire Constabulary on 101.