MP Concern About Ambo Service
18 September 2018, 14:34 | Updated: 19 September 2018, 08:14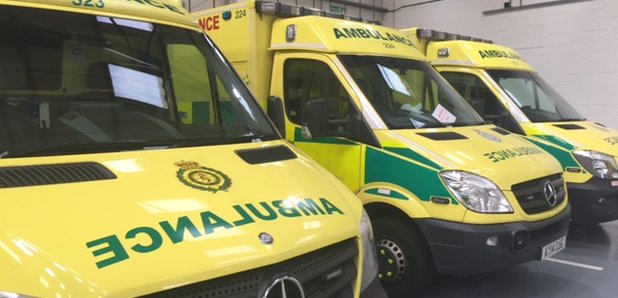 Heart has been speaking to the former Health Minister Norman Lamb at the Lib Dem Conference in Brighton.
The MP says he's really concerned about how the East of England Ambulance Service will cope with the winter pressures this year.

He believes the departure of the current Chief Exec means the Trust needs urgent help at the top.

He also says the trust is so under-staffed that it's considering a plan to divert ambulances on the way to hospital with a patient, to see another patient.

In response to the claims of needing urgent help at the top, Sarah Boulton, the Chair of the Trust said:
"I am sad to say that our chief executive Robert Morton has informed me that he is leaving us.
For three years, he has successfully secured long-lasting changes on behalf of patients and staff.
Together, we have found a talented and steadfast Board to lead a wider team to deliver those improvements.
The biggest achievement of the Board he built was to secure a six-year contract with our commissioners.
This means we can recruit more staff over the next three years, and increase the numbers of ambulances we have on the roads.
As a result, we expect to see improvements in performance, particularly in the least densely populated areas of east of England such as Norfolk and Suffolk.
Robert's legacy is a great one. He has had the vision and compassion to get us into a great place, and our highly skilled board members will continue on their course to leading EEAST to becoming a high-performing trust."
The former health minister @normanlamb says he's really concerned about how @EastEnglandAmb will cope with the winter pressures this year in #Cambridgeshire & #Peterborough.

He reckons they need urgent help at the top, and the trust is under-staffed. #HeartNews pic.twitter.com/hB4uAh4GiW

— Cambridgeshire News (@HeartCambsNews) September 19, 2018

East Of England Ambulance Service Statement

We currently get to around 9 out of 10 of our sickest patients within the targets.
We had support from our Clinical Commissioning Groups who have ensured we have more funding to pay for more staff and ambulance to help to make improvements to our performance.
It will take time to get the right numbers of staff and vehicles in place.
This long term plan therefore needs support of a shorter term plan, entirely focused on those with life-threatening injuries.

It is entirely right that we look into short term metrics to support patients, making the decision with the clinicians involved.
It is ok for them to say no. Clinicians would only ever be expected to divert to a C1 incident to give immediate assistance for those few minutes until another ambulance arrives.

Robert Morton, Chief Executive and Dr. Tom Davis, Medical Director have confirmed that "There are rare situations where a crew who are transporting a clinically stable patient may be passing close by to a life-threatening Category 1 incident.
In such rare circumstances, it is absolutely right that the crew are contacted to assess if it is clinically safe for the patient on board, if the crew were to stop at the incident and give immediate life-saving care before the arrival of the next closest ambulance or car."

It would be at the discretion of each clinical crew to decide whether their stable patient's welfare would be unduly jeopardised by diverting to the C1 incident.

This procedure has been mis-described as 'ambulance-sharing' in some media outlets.

Most of our ambulances contain a wide range of modern equipment for assessing and treating patients on the scene, and cannot transport more than one stretchered patient at a time.