Nadine Dorries On Suffering 'Terrifying' Sex Abuse As A Child
8 June 2015, 06:20 | Updated: 8 June 2015, 06:21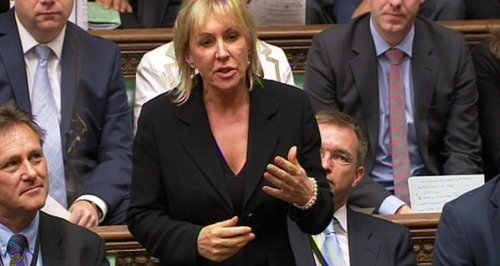 Mid Bedfordshire MP Nadine Dorries has revealed she suffered sexual abuse as a child.
The former I'm a Celebrity contestant, who grew up in a working-class family in Liverpool, says she was abused by Anglican vicar and family friend Reverend William Cameron when she was nine.

He was better known to parishioners by his middle name James and made priest-in-charge at St Mary's Anglican Church in Halewood in 1966, she told the Mail on Sunday (MoS).

Ms Dorries, who never went to the police, claims the abuse began when she was summoned to the vicarage on the pretence of looking at his stamp collection.

The man, now dead, showed her a Playboy magazine as well as photos of him and his wife having sex, the Mid-Bedfordshire MP told the newspaper.

She claims he also used to visit her family home and perform sex acts near her when she was in bed.

"It has taken me 49 years to talk about it,'' she said. "It has been slowly coming out and each time I say the words it gets a bit easier.

"My childhood was stolen from me. I was not an innocent girl enjoying things in the way other children were.

"From a young age I was made to be different and ashamed. Even now, I fear that people will say it was me and that I must have done something wrong; that there was bad in me that made other men do that; that I was a child harlot.

"I didn't know what sex was - I was only nine. But I remember thinking it was bad and wrong and I felt filled with shame.

"Who would have believed me if I had said something? He was a big person in the community; he was God. My parents would have been horrified if they had known. I didn't tell them - I didn't want to let them down.

"Of course I wish I had the courage to report him. I wish I could have been brave enough to shake off the feelings of fear and shame and stepped up and done so, but like many victims I was too terrified.

"Those of my generation who were subjected to abuse now have a responsibility to ensure that child abuse is never rife again, that children are safe and protected.''

Ms Dorries, who has until now claimed the books are fictitious, said she found healing in writing the thinly-veiled accounts.

She told the MoS: "It was fired by hatred and revenge, and I'm the first to admit I'm not proud of that, but it worked for me.''

The third of Ms Dorries' books The Ballymara Road - in which she uses the Rev Cameron's real name in full - came out last week and a fourth will be published in December.