New Drive To Help Freshers Stay Safe In Northampton
29 September 2018, 06:00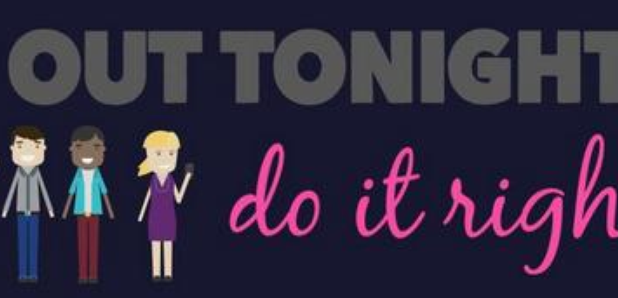 New students in Northampton are being offered easy tips for staying safe at night time as part of an ongoing personal safety campaign.
As new students get used to the town, they are being encouraged to use an approved safer route home and make use of support provided by taxi marshals and Northampton Street Pastors during nights out in the town centre.
This support is being provided as part of the extended "Night Out? Do it right" personal safety campaign, which was launched in the town back in March 2017.

The campaign originally focused on providing young people with advice about taxi and private hire car use as well as safety tips such as planning how you will get home, saving an ICE (In case of emergency) contact on their phone and using anti-spiking bottle caps.

The 2018 extension of the campaign will see students being offered a signposted route from the town centre, back to the new Waterside campus during Freshers' week. A download of the route is also available from the Borough Council's website as an easy reminder.

In addition, a new taxi marshal scheme is being trialled in the town during busy pay day weekends, starting from Friday, 28 September. The taxi marshals will be on hand at the Georges Row taxi rank to help manage queues and offer help to vulnerable people on nights out, alongside Northampton Street Pastors who are also out in the town during payday weekends and Bank Holidays.

The Street Pastors support pub and security staff, as well as Northamptonshire Police, by providing a calming and reassuring presence in Bridge Street, Abington Street and Wellingborough Road. They also provide practical support such as signposting to relevant organisations or contacting the family and friends of people who or vulnerable or have become separated from their friends.
Cllr Anna King, Cabinet member for community engagement and safety, said: "The Night out? Do it right" campaign has been hugely successful in promoting common sense tips to young people and others who enjoy an evening out in the town. With the new University of Northampton Campus opening this September, we felt we needed to do all we can to ensure that the new students feel safe and settled in the town, as quickly as possible. We hope that the introduction of the safer route home and taxi marshals, and the continuation of the support from Northampton Street Pastors, aids this process as well as providing essential assistance to everyone involved in our night time economy."
The approved safer route home can be downloaded, with more information about the taxi marshalling service and the broader Night out? Do it right campaign, at www.northampton.gov.uk/info/200258/community-safety/2292/out-tonight-do-it-right