No Decisions Yet On Swingeing Cuts In Northants
2 August 2018, 12:46 | Updated: 2 August 2018, 13:02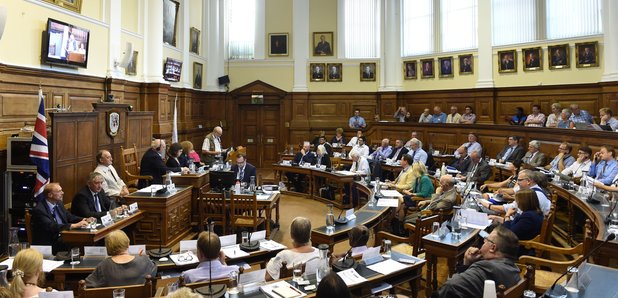 A national Children's Charity says whatever Northants County Council decides to spend the rest of the little money it has left it must ensure protecting and safeguarding children remains an absolute priority.
The authoirty held an extraordinary meeting amid concerns it will no longer be able to pay for services for vulnerable children and adults and meet its legal budgetary duties.

Councillors at Northamptonshire County Council held the talks last night, to discuss how to tackle the funding crisis, with the leader proposing services are cut back to a "core offer".

Council leader Matthew Golby warned they face having to decide "what we can realistically provide and how we can help to create resilience in places where the Council can no longer step in".

He said in a discussion paper published ahead of the meeting:
"With so much already taken out of our budget and more still to save, the County Council now needs to articulate, in the form of a core offer, the realistic level of service we are likely to provide, not merely to meet our statutory duties but to meet real local need."

Speaking during the EGM, Mr Golby said:
"The emotive nature of the speakers came out and I try to respect their views. We have got to take our own responsibility... and we welcome criticism and challenge. We know that the quantum of the challenge financially is huge... but we are going to do everything within our powers to win back the confidence and trust of people from Northamptonshire to get this council back on track."

He added:
"This is a massive task we are being asked to look at this evening... but I welcome some constructive feedback and challenge from opposition members.

We want everybody to go back and take responsibility... for the people of Northamptonshire."

Mr Golby's paper said the offer would "safeguard all children and young people" while ensuring a "robust safeguarding system to protect vulnerable adults".

But during the meeting, the Council leader admitted the comments from the Ombudsman were "frankly embarrassing".

Of the 57 Northamptonshire county councillors, only 43 were present at the meeting, a week before cabinet meets to further discuss the proposals.

Opposing Mr Golby's views on how to manage the budget, Labour councillor Mick Scrimshaw also opposed the council's propositions and said:
"There's not a cat in hell's chance that this year's budget will actually balance. We need to send a clear and strong message to the government - we cannot manage because of stupid local decisions... and this administration is to blame for that.

We are at the vanguard of the austerity project. I think that is just an excuse by some to reduce the powers and size of local government, the real agenda is to cut and cut and cut so we can go cap-in-hand to government."

In July, the council issued a second order to confine spending to "only the most essential services" amid fears that its budget shortfall could reach £70m this year.

It came after Government-appointed commissioners were sent in to run the authority earlier this year after it issued a Section 114 notice restricting its own spending in a bid to balance the books.

A Government report this year found serious failings at the council and said it should be scrapped.

Meanwhile, the Chartered Institute of Public Finance and Accountancy has warned that other authorities are facing similar pressures.

Members of the public were also invited to speak for two minutes at the meeting, with many calling for Mr Golby to resign with immediate effect.

Pat Markey, a teacher, added his views by saying:
"The cuts that we have faced over the last few years and the cuts that are about to happen are criminal".

One woman, Caroline Smith, asked the members of the public to conduct a minute's silence during her allotted two minutes, in order to reflect on those affected by "council decisions".

Dozens of protesters made their voices heard outside County Hall where the council was holding its EGM.

Many displayed banners simply saying No More Cuts, with others reading You Bailed Out The Banks, You Bailed Out The DUP, You Can Bail Out Northampton.

After the meeting, shadow communities secretary Andrew Gwynne tweeted: "Tories are not up to the task of governing - tonight's Northants council meeting is proof.

"No money, no plan and not a care for vital public services. A dereliction of duty from council level to Downing Street."
COUNCIL ISSUES ACTION PLAN AHEAD
A proposed action plan outlining a series of measures to address Northamptonshire County Council's severe financial crisis is due to be discussed at a special Full Council meeting next week (Thursday).
The action plan has been drawn up in response to the issuing of a second Section 114 notice last month (July) by the council's director of finance and follows a meeting yesterday (Wednesday) where councillors discussed priority areas of spend.
The measures include a number of steps required to significantly reduce spending as part of the authority's budget recovery plan, including:
Extended controls on spending, including approval for all spend over £1,000 and a new approval process for spending in adult and children's services
Radical service reductions and efficiencies in areas across the council including:
Children's Services - looking at factors for high spending on high numbers of referrals and high numbers in the care system
Adult Services - examining learning difficulties, fees and charges and NHS contributions
Road Maintenance and Transport including home to school transport
Property rationalisation
LGSS and Business Support
Waste management
Culture
Capital Programme and its funding
Staff redundancy programme
Introduction of a strategic co-ordinating group to centralise decision-making in line with the council's agreed spending priorities
Introduction of a transformation task force to identify cost reductions in line with the council's priorities
An NSPCC spokesperson for the East of England said:
"The protection and safeguarding of children in Northamptonshire must always be an absolute priority. And the continued threat of significant cuts to the council's children's services department is of significant concern.
Shortcuts cannot be taken in safeguarding and there is an urgent need for a plan detailing how the council are going to prioritise vulnerable children.
It is vital that early intervention part of this plan to target the needs of children at risk before issues escalate and families reach crisis point."