Northampton: Bus Firm Buzzing With £1.7m Fleet
19 October 2017, 17:16 | Updated: 19 October 2017, 17:20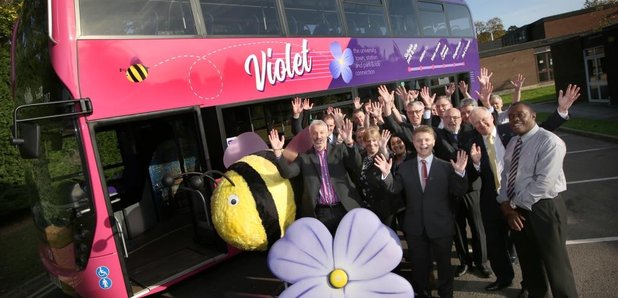 A fleet of brand new, ultra-modern double-decker buses have been introduced onto the roads of Northampton today.
Uno Buses, along with the University of Northampton, have invested £1.7m in eight state-of-the-art environmentally friendly buses.
Each bus will offer the very best in on board comfort and features, including free super-fast Wi-Fi and USB charging points.
Jim Thorpe, Managing Director of Uno Buses, said:
"We've spent a lot of time designing the very best interiors for our customers. They're light and airy and should really enhance the overall journey experience.
We're so proud to serve the University and the town of Northampton, all the interiors commemorate the town's roots in shoemaking too.
We've got lots of plans for our bus services, and we're all really excited about Violet; the new buses will go into service on the 19 October."
The Violet buses will operate on the 19 route and will run up to every 12 minutes serving both University campuses, Kingsthorpe, the town centre, the train station and Sixfields.