Northampton Jewellers Raided
14 December 2018, 13:25 | Updated: 14 December 2018, 13:29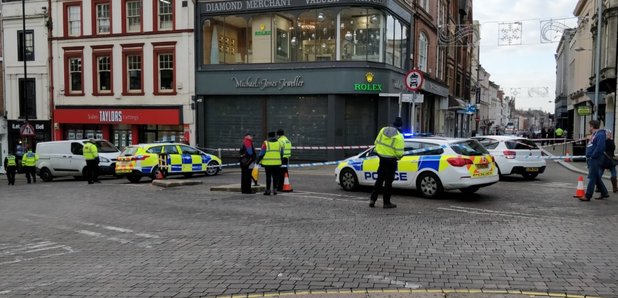 This has been the scene outside Michael Jones Jewellers in Northampton this lunchtime.
Northamptonshire Police say they were called at around 1040am to reports of a robbery.

Images from the scene show a white BMW hatchback crashed into the front of the store with smoke coming out the front, then four men running around the corner to a small Honda-like hatchback getaway car.

The store made headlines back in 2011 when hand-bag wielding Ann Timpson fought off moped-riding robbers.

A short time after this morning's raid, Father Oliver Coss, the Rector of All Saints' Church, opposite, who posted this picture on social media with the message: "Just going to say mass, where we shall pray especially for the staff of @MJJewellers, our neighbours in Northampton. And for peace on our streets."