Northampton Museum Works Get Underway
17 September 2018, 08:13 | Updated: 17 September 2018, 08:16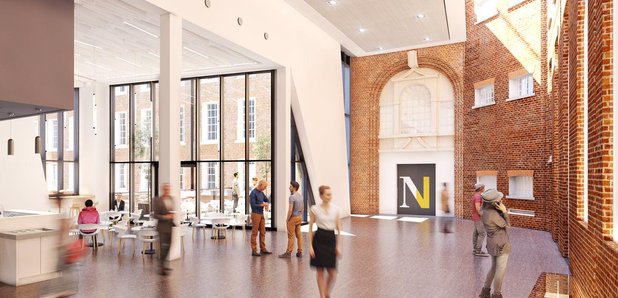 Construction works are about to start on Northampton's Museum expansion project.
The £7m extension is being paid for thanks to a controversial sale of an Egyption statue in 2014, the 4000 year-old Sekhemka statue, which netted the council around £16m.

The two year works will provide:

* New 380m2 temporary exhibitions gallery, capable of hosting major touring exhibitions and in-house collections, many focusing on Northampton's past
* New Shoe Gallery showcasing the internationally-important shoe collection
* New entrance reception and shop
* New café with outdoor terrace seating
* Selling gallery, with a focus on Northampton and Northamptonshire artists and makers
* Dedicated schools and activity space
* Central Hall major events space
* Refurbished art gallery
* New visitor facilities (toilets etc)

The first major element of work will be demolition of the bridge connecting the Guildhall Road building and Old Gaol Block, both formerly parts of County Hall.

Despite the complexity and issues presented by three historic buildings and joining these together with a new-build element, Wildgoose has confirmed it can deliver the whole project within budget by spring 2020.

Cllr Anna King, Cabinet member for engagement and community safety, said:

"This is a key milestone in a vital project for our Cultural Quarter, and our town centre.

The new museum will not only be a place to learn about and celebrate Northampton's rich history, it will also be a fitting showcase for our internationally important shoe collections.

There will also be a much more social element, offering people a wonderful space in which to meet and socialise, and it will offer plenty to interest families.

I know that this project is some way behind the original schedule, but we want to create a stunning new facility so we absolutely have to get it right."