Northampton: Shooting Latest
19 November 2017, 11:21 | Updated: 19 November 2017, 11:25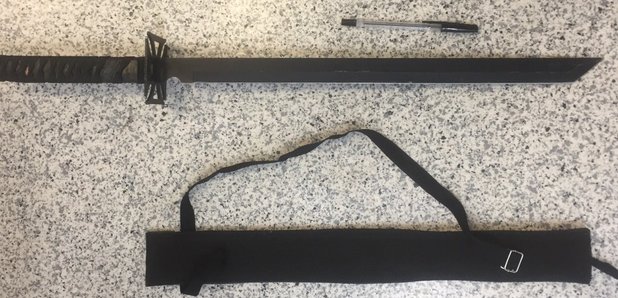 Police were granted extra powers overnight to stop and search ANYONE following reports of people walking around with knives in Northampton on Friday night following a car being shot at.
Officers were called to reports of a car being shot in South Holme Court, Thorplands, shortly after 6pm, on Friday, November 17.
Two women who were passengers in the car received minor injuries in the incident and were taken to hospital for treatment.
On Saturday, police announced they had granted officers additional stop search powers in Thorplands.
Section 60 of the Criminal Justice and Public Order Act 1994 allows officers to conduct searches without 'reasonable suspicion' but only when a chief officer believes serious violence will occur.
The additional powers were put in place between Saturday night 6pm and 1am this morning (Sunday, Nov 19).
Additional police officers were also on patrol and conducted four stop searches where police found:
:: 15 year-old boy in possession of a samurai sword and arrested for being in possession of an offensive weapon (pictured).
:: 21 year-old man was stopped while driving a car and found in possession of cannabis
:: A car was seized as suspected stolen and the driver had no licence
Chief Inspector Lara Alexander-Lloyd, said:
"We are taking the events of Friday night extremely seriously and in a bid to deter further violence last night, requested additional powers from the Deputy Chief Constable to be able to conduct stop searches without the usual grounds required.
This was granted for a seven hour period for the Thorplands area of Northampton, where the disorder took place on Friday night.
The decision to extend stop search powers was not taken lightly. However, two people were injured in a shooting at a time when a large group of people were seen carrying knives, and one of our top priorities is to prevent further people being injured.
Extensive work is taking place to investigate the disorder on Friday night and we continue to appeal to anyone who may have seen what happened, or who has any information about those involved to contact us or Crimestoppers."
A 22 year-old man arrested by officers on Friday night in connection with the incident, which took place shortly after 6pm in South Holme Court, remains under investigation and in custody this morning.
Pic: Northampton Police