Northampton South MP To Step Down
28 April 2017, 12:10 | Updated: 28 April 2017, 12:20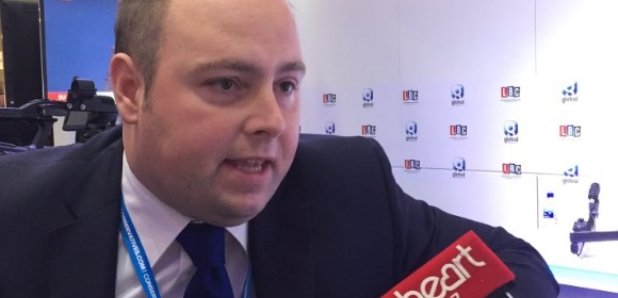 The Northampton South MP David Mackintosh has announced he will not be seeking re-election in June - just days after pledging to stand again.
David Mackintosh, who was first elected to the Northampton South seat in 2015, said it was "the right time for my constituents to have a new representative".
It is understood he was due to face a selection meeting of the local Conservative association next week.
Announcing his decision, Mr Mackintosh said:
"After much thought I have decided not to stand again as the Conservative candidate for Northampton South.
It has been a huge honour to be the Member of Parliament since 2015, but I now feel it is the right time for my constituents to have a new representative."
But earlier this month, he welcomed the Prime Minister's announcement of a snap poll and set out his ambition to continue in the role.
At the time, Mr Mackintosh said:
"I would like to continue that work as the Member of Parliament for Northampton South after the election in June so will be seeking re-election.''
The 38 year-old, who backed Remain in the EU Referendum, is also the former leader of Northampton Borough Council.
He was in charge of the local authority when it loaned more than £10m to Northampton Town FC to improve its Sixfields ground.
However, the work was never completed and a police investigation into what happened to the money is still continuing.
Mr Mackintosh has always denied any wrong-doing.
He was elected with a 3,793 majority over Labour.
Northampton Conservatives said in a statement:
"We would like to thank David for his work in representing the people of Northampton South in parliament and wish him the best for the future.
Details of our new candidate will be revealed shortly."
Meanwhile, Northamptonshire Police said "the sensitive and painstaking work" of its investigation into the missing millions was continuing.
In a statement, the force said:
"A dedicated team of full-time investigators, accountants and analysts continue to independently assess the grant, use and the loss of millions of pounds of public money.
We are committed to thoroughly and objectively investigating this matter, which includes evaluating and investigating every allegation which may have a bearing on events.
Significant progress has been made with more than 220 statements taken and over 1,800 exhibits identified.
Investigators continue to examine more than 200,000 documents and many thousands of financial transactions to a forensic level.
This is a complex investigation involving multiple allegations and counter allegations and it is important to remember that neither criminal nor financial liability will diminish with time."