Northampton Wages War On Litter Droppers
29 June 2016, 12:23 | Updated: 29 June 2016, 12:29
There's a new war being waged on litter on the streets on Northampton - and - the people who are dropping it all.
Two new giant grot-busting machines are being introduced to sweep the streets 7 days a week who'll clean-up all the food wrappers, cans and cigarette butts that people have just chucked on the ground, instead of finding a bin.
The Borough Council say the idea's to have a clean and litter free environment to welcome visitors - but they'll keep Uniformed Enforcement Officers on the ground to issue litterbugs with fixed penalty notices.
The authority says one of the new pieces of kit, the 'Tango Machine' will be on the streets of Northampton from today, June 27th as part of ongoing efforts to improve the town centre environment.
Northampton Borough Council says:
"The new suction sweeper machine will be used throughout the day, seven-days a week, to keep the town centre streets as clean as possible and will make a positive impact on the cleanliness of the town centre.
The team of three operators have been fully trained and will operate the machine, tackling rubbish hotspots and cleaning up food wrappers, empty cans and cigarette butts which are unfortunately dropped on the town centre streets.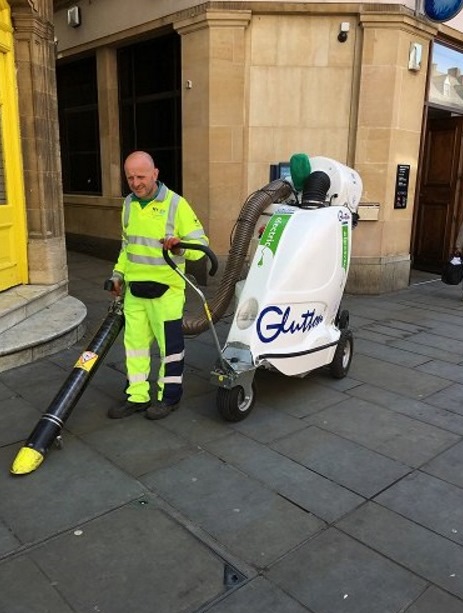 Along with the borough council's enforcement officers who provide a uniformed presence and tackle people who drop litter by issuing fixed penalty notices, this is another attempt at tackling littering in a more integrated way and ensuring that the town centre is clean, free from rubbish and is welcoming to visitors.
Councillor Alan Bottwood, cabinet member for environment said: "I am delighted with this new piece of equipment, which will help keep the environment in the town centre clean and free from litter.
The new machine with its team of operators, will work alongside the newly recruited Enforcement Officers to send out a strong message to people about zero tolerance towards litter dropping in the town centre. By using our resources intelligently, we can make sure officers are deployed in certain key areas, targeting littering hotspots and engaging with the community to enable them to take pride in where they live."