Northampton's Walter Tull Commemorated
24 March 2018, 11:20 | Updated: 24 March 2018, 11:26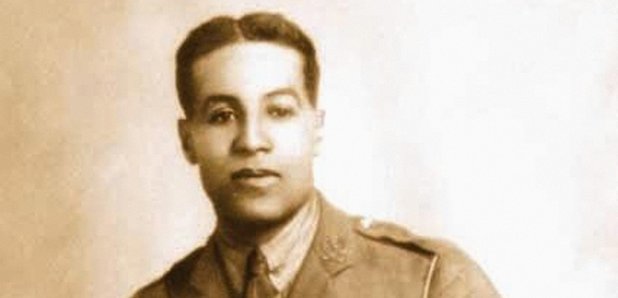 Marking 100 years after his death there's events staring today in Northampton to commemorate Walter Tull - the first man of black Heritage to become an officer in the British Army.
Before joining the military - he was a Northampton Town footaller.

The events begin with a free Centenary Memorial Service in the Guildhall Courtyard today (Saturday, 24 March) at 1pm.
During the service visitors can join Cllr Gareth Eales, the Mayor of Northampton in front of the Walter Tull statue as he, the Princess of Wales's Regiment and members of Walter's family share a few words and lay wreaths.

Following this service, Walter Tull's story will be told by his biographer Phil Vasili in the Great Hall.
Talks titled Racism in Football: Historical and Contemporary Issues by Dr Steven Bradbury, Loughborough University and Walter Daniel Tull: Standing on the Shoulder of a Pioneering Giant by Tony Whelan, Manchester United Youth department football coach will also be shared with the audience.

The commemorations continue on Sunday, 25 March with a procession and civic service at All Saints Church.
A commemorative service will take place in All Saints Church at 5pm, with representatives from the football club, the regiment and Walter's family reading lessons during the evening event.

Finally, Northampton Town Football Club's Chaplain will lead a short ceremony at 2pm at the Walter Tull Memorial, ahead of a commemorative match against Charlton Athletic on Friday, 30 March. Moulton College will also lead a short memorial piece, before the games starts at 3pm.