Northants Air Ambulance Puts In The Miles
17 February 2017, 14:18 | Updated: 17 February 2017, 15:20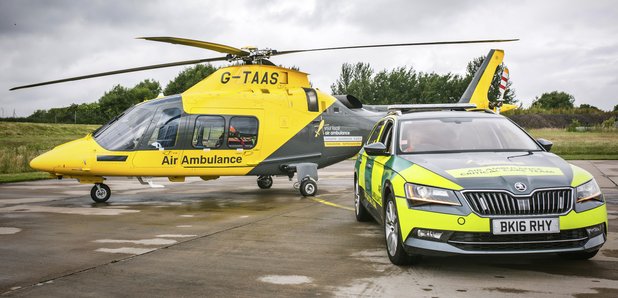 One of region's Air Ambulances, the Warwickshire and Northants service, have reported their busiest year in 6 years - now that they've introduced their new night-car service.
The air ambulance service went to 1,333 missions in total - around 4 missions every single day.
Of those missions, 800 were carried out by the helicopter during the day shift, while 413 were carried out on the service's new night service, which runs between the hours of 4pm and 2am.
The remaining missions were made up of car missions during the day, which are usually carried out when an incident is very close or when inclement weather prevents the helicopter from flying.
The night car started running seven days a week in May last year, following a successful trial period.
The car carries all the lifesaving equipment used on the helicopter including a defibrillator, cardiac monitor, a ventilator and an automated CPR (cardio pulmonary resuscitation) device.
On-board doctors and critical care paramedics also have access to critical care drugs and equipment usually available only in hospital emergency departments.
The night car service takes over from the air ambulance when darkness falls; and operates until around 2am, 365 days per year.
Head of operations Philip Bridle said:
"We are extremely proud that our critical care cars have been such a success. Thanks to the excellent road networks around our area and less traffic to contend with at night, our cars are able to get to accidents and emergencies very quickly, just as our aircraft does during the day. This means our critical care paramedics and doctors are available for the most serious incidents at night as well as during the day."
The charity, which receives no government funding, needs to raise an additional £200,000 per year to keep the service on the road. It is currently campaigning for donations to help it fund the year ahead.