Northants: Couple Guilty of 94 Sex & Drug Crimes
16 March 2017, 16:11 | Updated: 16 March 2017, 16:27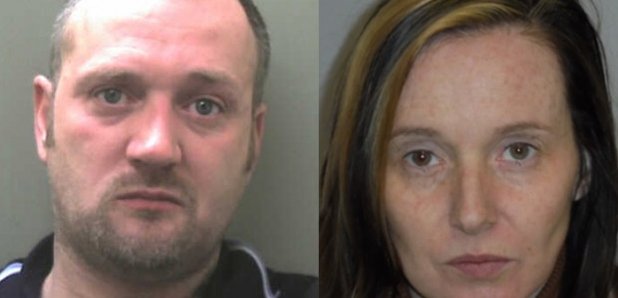 A husband and wife from Northampton have today been found guilty of 94 charges of drug and child sex offences.
Nicholas and Joan Taylor, formerly of Briar Hill, were found guilty by a jury of seven men and five women at the end of a seven week trial at Leicester Crown Court.
Mr Taylor, 47, was found guilty of 62 charges, including rape, indecency with a child and supply of Class A drugs. During the trial he pleaded guilty to one count of child cruelty.
Mrs Taylor, 44, was found guilty of 22 charges, including rape, indecency with a child and supply of Class A drugs. She pleaded guilty to nine additional charges prior to the start of the trial.
Both were found guilty of offences against boys and girls as young as 11, dating from 1996 to 2006. Their eleven victims were aged 16 or under at the time of the incidents.
The investigation into the Taylors began in 2014 and is the largest of its type in Northamptonshire Police's history.
Detective Inspector Adam Pendlebury, who oversaw the investigation, said:
"We welcome the decision of the jury to find Nicholas and Joan Taylor guilty of these charges.
It is very clear that Nicholas Taylor (previously known as Ronald Victor Stevenson) is a very dangerous, depraved individual who used threats of violence alongside crack cocaine to sexually abuse children. It would be easy to suggest that he forced and bullied Joan into committing offences but the court has heard that she was a more than willing accomplice.
The Taylors were master manipulators who used crack cocaine to force their victims to engage in sexual activity against their will and their actions have had a devastating impact on their victim's lives.
The court heard testimony from a witness describing the Taylor's house as having the 'fear factor', describing Nicholas as cold and calculating and how the introduction of crack cocaine ruined his life."
Each of the victims, all of who were abused in the Taylor's home in Briar Hill, Northampton, gave evidence at the trial.
DI Pendlebury added:
"The courage shown by the victims in coming forward and giving evidence cannot and should not be underestimated, and I have a huge amount of respect for them for supporting our investigation.
It has taken an extraordinary amount of bravery for them to attend court and give evidence in front of their abusers, and I hope the guilty verdict provides them with some comfort.
Although some of these incidents took place more than 20 years ago, the abuse conducted by the Taylor's still has a significant impact on the lives of the victims.
I hope the successful prosecution of Nicholas and Joan Taylor shows other victims of non-recent abuse that they will be believed and that action can still be taken against individuals, no matter when the incident took place."
DC Cathy O'Connor led the investigation and today paid tribute to the victims and said:
"This investigation has been very challenging yet extremely rewarding. The courage of the victims, who went from giving us small bits of information to attending Crown Court to face their abusers, has led to today's positive result.
I and the investigation team thank them all for working together with us, for trusting in us and standing side-by-side with us throughout this whole process.
The community of Briar Hill has shown how they will stand together and not let criminals of this nature ruin their lives and their community.
I hope this shows to others that if you decide to confide in the police we will do our very best to work together with you in seeking justice."
Anyone with concerns as a result of this trial can contact Northamptonshire Police on 101 or Crimestoppers anonymously on 0800 111 555.
Anyone who may have been a victim of this type of crime and would like to speak to someone independent of the police, can contact Voice, for victims and witness in Northamptonshire, on 0300 303 1965 or find out more at voicenorthants.org.
The Taylors will be sentenced at a later date.
Nick Taylor pleaded guilty to:
:: Cruelty to a person under 16 x 1
Charges found guilty of:
:: Sexual Activity with a child x11, Indecency with a child x10, Rape x10, Engaging in sexual activity in the presence of a child x9, Supplying Class A drugs x6, Causing or inciting a child to engage in sexual activity x4, Assault of a child under 13 by penetration x4, Rape of a child under 13 x3, Causing a child to watch a sexual act x2, ABH x1, Indecent Assault x1, Attempted rape x1
Joan Taylor
Pleaded guilty to:
:: Indecency with a child x4, Engaging in sexual activity in the presence of a child x4, Cruelty to a person under 16 x1
Charges found guilty of:
:: Indecency with a child x5, Engaging in sexual activity in the presence of a child x3, Rape x6, Supplying Class A drugs x4, Sexual Activity with a child x2, Rape of a child under 13 x2