Northants Flytippers Fined
1 October 2016, 10:02 | Updated: 1 October 2016, 10:18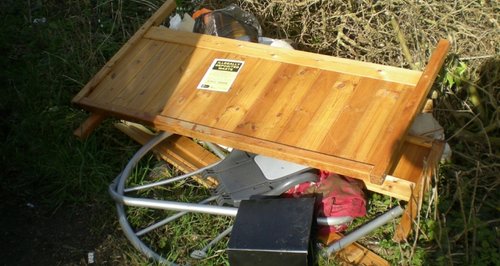 Investigators working for East Northamptonshire Council have netted two fly tippers and resulted in them facing fines of hundreds of pounds.
On 5th Sept, Richard Johnson from Stanwick was found guilty of fly tipping in Midland Road, Rushden.
East Northamptoshire Council's (ENC) waste team found rubbish scattered along the street in February 2016, with evidence pointing to Mr Johnson who had allowed it to fall from an unsecured skip.
Mr Johnson had the chance to pay a fixed penalty notice for the offence, but declined, so was ordered to pay nearly £500 at Northampton Magistrate Court instead.
The next day Corby's Laura Ramaj was ordered to pay over £700 after she was found guilty of fly tipping in the north of the district.
In February 2016, ENC officers found household waste and furniture dumped on the Gretton Brook Road in Deene.
Evidence lead to Ms Ramaj, who was contacted by the waste team to find out how the material came to be left at the location.
Ms Ramaj failed to return the request for information, committing a further offence, and was formally prosecuted by Northampton Magistrates Court on 6 September.
Leader of ENC, Steven North, is concerned that people still think it's acceptable to fly tip in East Northamptonshire and beyond saying:
"Fly tipping is completely unnecessary and costs us all. Not only does it blight our district, items left on the roadside could contain any number of unknown hazards to passing vehicles, pedestrians or animals.
Our waste team works tirelessly to ensure any incidents are dealt with as quickly and efficiently as possible, but it is frustrating that their time and tax payers money is having to be spent clearing up other people's mess.
We hope the recent increase in on-the-spot fines will help further reduce fly tipping."
You can help in the fight against fly tipping by reporting any offences online at www.east-northamptonshire.gov.uk/flytipping or by calling 01832 742026.
To get rid of unwanted waste responsibly, please visit one of Northamptonshire County Council's Household Waste Recycling Centres, or visit www.east-northamptonshire.gov.uk/bulkywaste to find out about ENC's bulky waste collection service.