Northants Halloween Gang Face 27 Years Behind Bars
22 September 2018, 09:32 | Updated: 22 September 2018, 09:33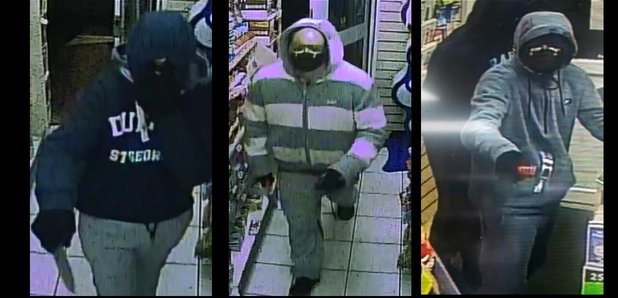 The Northamptonshire 'Halloween Gang' face 27 years behind bars
Three youths who dressed up in Halloween costumes and motorcycle helmets, went on a crime spree, wielding knives and hammers, have been sentenced to 27 years imprisonment.
Kieran Hatch, aged 21, Thomas Folland, aged 19 and a 17-year-old boy who cannot be named because of his age, hit six convenience stores across the Northamptonshire threatening staff into handing over cash and alcohol.
The three appeared at Northampton Crown Court last week (Mon Sep 10) where they were sentenced, having pleaded guilty to robbery.
Each of the defendants were handed nine year sentences in a youth offender's institute.
The armed robberies took place between March and April this year when six stores across Wellingborough, Irthlingborough and Rushden were targeted.
The trio were caught after a shopkeeper activated the alarm during the attack and police arrived.
They attempted to flee in a white transit van that had been used in each of the robberies, but were pursued by officers and forced to pull over. The 17-year-old tried to escape but was caught by police dogs.
Detective Lee Norton, who led the investigation, said: "Over a period of just one week, these three committed six offences. Their brazen attacks left people not only financially worse off, but also traumatised by the incidents.
"Hopefully, these prison terms will help them understand the gravity of their crimes."