Northants: Old Bobby Helmets Phased Out
10 May 2017, 11:59 | Updated: 10 May 2017, 12:18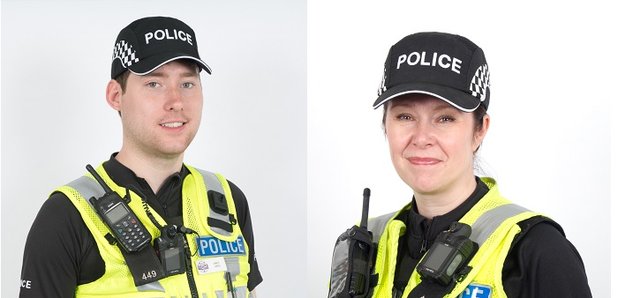 An iconic British image is going to begin to disappear from Northamptonshire today, as police officers are trading in their traditional "Bobby" helmet, for base-ball caps.
The Force has begun issuing the so-called "Bump Caps" - essentially baseball caps with a reinforced internal frame - which will completely replace the more traditional Custodian and Bowler hats by June 9.
They would become the third Force in the UK to adopt the new headgear following successful launches in Cheshire and Lancashire although the caps are currently used by a very small number of specialist units within Northamptonshire Police.
The caps are rated as Personal Protective Equipment (PPE) and are, by their nature, lighter and more comfortable than the headgear currently worn by police officers and PCSOs.
In addition, they are significantly cheaper than traditional hats and the initial expenditure has been made from the uniform underspend for the latest financial year.
Chief Inspector Tom Thompson told Heart:
"This is an emotional attachment to the old head gear the problem is we weren't wearing the headgear because it wasn't fit for purpose.
We were issuing different headgear to men and women purely on the basis of gender - and the different levels of protection we were offering to men, women, specials and PCSO's - well it really wasn't sustainable or defensible.
We've seen batons replacing truncheons, we've seen pepper spray brought in, reflective jackets, body armour and and now this is just an extension of that really.
It's a headgear that offers protection that is comfortable and that all officers can wear on their daily duties."
Northamptonshire Police say:
"Research showed the most popular headgear among male officers was the flat cap, but it offers no protection while the traditional custodian helmet is impractical for most duties and is only fully protective when the chin strap is used.
This is also the case for the traditional bowler hat for female officers.
Further engagement has also shown that having to choose gender-based headgear is a barrier to the non-binary transgender community joining the police service. By introducing this new hat we provide a single protective hat to all police officers, Special Constables and PCSOs for general duties.
In line with other public bodies, including the Army, the existing headgear can remain with officers where issued and will be used - as tunics are currently - for ceremonial purposes.
The Force's Uniform Advisory Group (UAG) have engaged with staff associations and groups to ensure this is a successful introduction with the whole changeover being reviewed in 12 months time.
Chief Constable Simon Edens said:
"This is a very significant change for the Force and I welcome it wholeheartedly. Our officers and PCSOs are well equipped for 21st Century policing but now the introduction of this new headgear will better protect them as they protect people from harm."
Police and Crime Commissioner Stephen Mold also welcomed the move.
He said:
"My role is to ensure the Force has the appropriate funding and equipment to perform at its best and make Northamptonshire safer. I think this is absolutely the right time to update and provide this new, fit for purpose headgear."