Northants: Paedophile Couple Jailed For 36 Years
8 May 2017, 17:54 | Updated: 8 May 2017, 17:56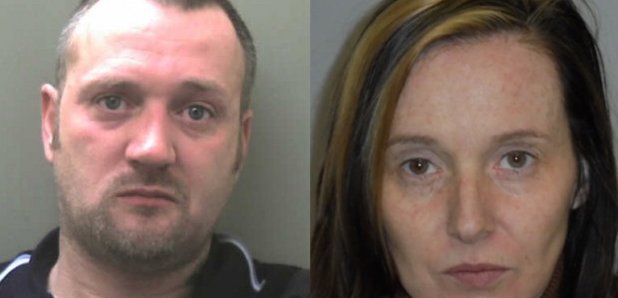 A couple from Briar Hill have been jailed for 36 years between them for multiple, historic sex and drug offences against children.
Nicholas and Joan Taylor (pictured) were found guilty of 94 charges at the end of a seven week trial at Leicester Crown Court in March.
Both were found guilty of offences against boys and girls as young as 11, dating from 1996 to 2006.
Their nine victims were aged 16 or under at the time of the incidents.
Nicholas Taylor, 47, (previously known as Ronald Victor Stevenson), was found guilty of 62 charges including ten rapes, three counts of rape of a child under 13, ten counts of indecency with a child, 11 counts of sexual activity with a child and six counts of supplying Class A drugs.
He has been sentenced to life and must serve a minimum of 18 years before being considered for release.
His wife Joan Taylor, 44, was found guilty of 22 charges, including six rapes, nine counts of indecency with a child and four counts of supplying Class A drugs. She has been sentenced to 18 years in prison and must serve nine years before being considered for release.
The investigation into the Taylors began in 2014 and was the largest of its type in Northamptonshire Police's history.
Detective Inspector Adam Pendlebury, oversaw the investigation:
"We welcome the Judge's decision to impose the longest possible sentence on the Taylors.
The pain and suffering they caused their victims cannot be underestimated and I hope the knowledge that their abusers will be in prison for many years will give the victims some comfort.
Neither Nicholas nor Joan have shown any remorse for their actions despite knowing how their actions have impacted on their victims."
Each of the victims, all of who were abused in the Taylor's home in Briar Hill, Northampton, gave evidence at the trial.
DI Pendlebury added:
"The Taylors plied their victims with drugs and alcohol before sexually abusing them and that abuse has had a lasting impact on their victims. I would like to take this opportunity to thank them for their support during our investigation and the court process. Coming forward and giving evidence during the trial was incredibly brave and has led to two dangerous individuals being sent to prison for a very long time.
I want the outcome of this case to show victims of these types of incidents that you will be taken seriously and that justice can be served, no matter when the crime took place."