Northants Police Officer Arrested Over Wife's Murder
27 March 2015, 15:14
Statement by Supt Chris Hillery following Wootton Hall Park murder
01:57
A serving police detective has been arrested on suspicion of murdering his wife at their home in the grounds of the Northamptonshire Police Headquarters.
Otis Goldsmith 49, was arrested at 1pm on Thursday at the semi-detached house in the Wootton Hall Park estate, Northampton that he shared with his wife Jill (pictured).
The former police house, which is now privately owned, was cordoned off, with a police officer on guard today.
Curtains at the downstairs window were drawn.
A cordon was also placed around a 57 registered black Renault Espace that was parked on the green opposite the property.
One neighbour said "He is known as Otis. He's been in the force a long time and is close to retirement. All I will say about him is that he is a good guy."
DC Goldsmith was divorced and married Jill, then a 48 year-old widow, on 18 May last year.
He is thought to have three sons from a previous marriage, twins aged 17 and another aged 20.
In May 2009, the officer was a beneficiary at an awards ceremony for long service and good conduct.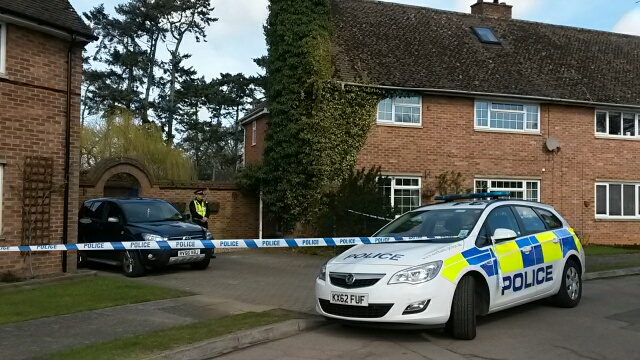 Northamptonshire Police Statement
Superintendent Chris Hillery of Northants Police has issued this statement today:
"I would like to offer mine, and Northamptonshire Police's condolences to the family and friends of the victim of this incident.
We were called to a private address at Wootton Hall Park just after 1pm yesterday and arrested a 49 year-old man on suspicion of murder.
I can now confirm the man arrested is Police Constable Otis Goldsmith, an off-duty officer from Northamptonshire Police. Otis Goldsmith is currently in custody in Northampton being questioned by detectives.
A referral was made to the Independent Police Complaints Commission last night because the incident involved a death and a serving officer. The IPCC will not be conducting the murder investigation itself which, as with all murder investigations in Northamptonshire, is being led by the East Midlands Special Operations Unit.
In this instance, no officers or staff from Northamptonshire Police will be involved in the investigation, which is being led by Detective Superintendent Kate Meynell.
Around 50 officers are working on this case from all forces in the region – including Nottinghamshire, Leicestershire, Lincolnshire and Derbyshire.
A post mortem examination is being carried out today at 2pm by a Home Office pathologist at Leicester Royal Infirmary.
Otis Goldsmith has served with Northamptonshire Police for more than 28 years. What has happened has understandably shocked and upset many people within the local community and again, I would like to offer our sincere condolences to all those affected."