Northants - Protests Ahead Of Crunch Meeting
1 August 2018, 14:16 | Updated: 1 August 2018, 14:19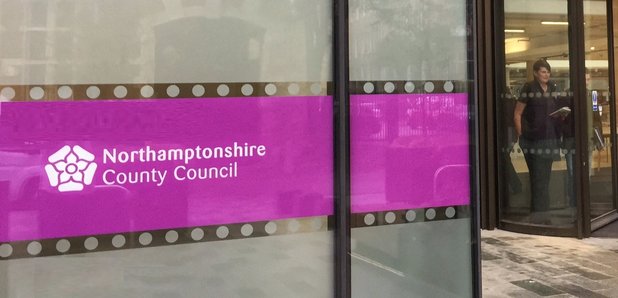 A protest is planned this afternoon outside Northants County Council as residents express their anger and concern over more planned budget cuts.
The authority faces a shortfall of £70m within the current financial year.
The troubled county council will hold an extraordinary meeting this evening; amid concerns that it will no longer be able to pay for services for vulnerable children and adults and meet its legal budgetary duties.

Councillors will discuss how to tackle the funding crisis, with the leader proposing services are cut back to a "core offer".

Leader Matthew Golby warned they face having to decide "what we can realistically provide and how we can help to create resilience in places where the Council can no longer step in".

He said in a discussion paper published ahead of the meeting:
"With so much already taken out of our budget and more still to save, the County Council now needs to articulate, in the form of a core offer, the realistic level of service we are likely to provide, not merely to meet our statutory duties but to meet real local need."

Mr Golby's paper said the offer would "safeguard all children and young people" while ensuring a "robust safeguarding system to protect vulnerable adults".

The offer would also provide services like waste collection, carry out "sufficient maintenance" of public highways and plan for school places.

However, Professor Tony Travers, a local government expert at the London School of Economics, said the council's virtually unprecedented position could force it to breach legal duties.

He told the Guardian in order to make cuts to balance its budget as required by law, it would also breach its statutory duty to provide core services, such as those for vulnerable children or the elderly, and disabled adults.

In July, the council issued a second order to confine spending to "only the most essential services" amid fears that its budget shortfall could reach £70m this year.

It came after Government-appointed commissioners were sent in to run the authority earlier this year after it issued a "Section 114" notice restricting its own spending in a bid to balance the books.

A Government report this year found serious failings at the council and said it should be scrapped.

Meanwhile, the Chartered Institute of Public Finance and Accountancy has warned that other authorities are facing similar pressures.

Its chief executive, Rob Whiteman, said in July:
"The National Audit Office's most recent financial sustainability report points out that 10% of upper-tier authorities are similarly vulnerable to financial failure.

That could be more than 20 councils at risk along with the essential services for several million citizens."
UNISON reaction
The Unison union says the planned cuts will leave the most vulnerable people in the county with nowhere to turn.
The Council, which effectively went bankrupt earlier this year, has called an emergency meeting this evening. At this, it's likely councillors will announce cuts that could leave services in breach of the legal minimum local authorities must provide, or be closed altogether.
There are fears too, says UNISON, that councillors could be gearing up to announce huge cuts to the wages of council employees.
UNISON branch secretary Penny Smith said:
"The County Council is once again letting the most vulnerable people in the county down, and putting their health and well-being at risk.
Despite the best efforts of Council staff to keep people safe and provide services under difficult circumstances, local residents will increasingly struggle to receive the most basic of services. And attacking employees at a time when the Council is already relying on their goodwill is a disgraceful move.
This has now gone too far. The Council is at risk of failing to keep children and vulnerable people safe. This could cost lives."
TIMETABLE OF ACTION
Tonight Full Council will discuss a paper around what the council's spending priorities should be
On August 9 another meeting of Full Council will be held to discuss and approve the council's response to the issuing of the Section 114 notice
On August 14 Cabinet will formally agree to the council's priorities.