Northants Pupils Presented With Shocking Reality
7 February 2017, 16:05 | Updated: 7 February 2017, 16:23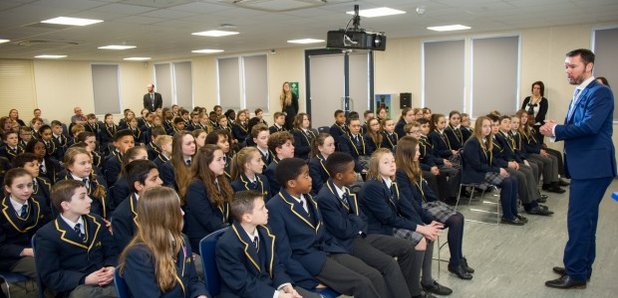 A powerful film has been launched in Northamptonshire which recounts the tragic story of a 15 year-old girl who was brutally murdered after being groomed online.
Kayleigh's Love Story was shown today at Wootton Park School in Northampton, to coincide with Safer Internet Day 2017.
The short, award-winning film shows Kayleigh's final days and was made to serve as a warning to young people and to illustrate the speed at which they can be groomed online without them or those around them realising what is happening.
Kayleigh's parents backed the making of the film after she was killed by Stephen Beadman in November 2015 after being bombarded with messages on Facebook and other social media sites for around two weeks by his 28 year-old neighbour Luke Harlow.
The film is designed to protect children and to stop another family losing a child in this way.
In just a fortnight before Kayleigh was murdered, 2,643 messages were exchanged - these messages form the basis of the film, which has been shown to 25,000 secondary school children in Leicestershire. It is now being offered to Northamptonshire's secondary schools, with support from Northamptonshire's multi-agency Reducing Incidents of Sexual Exploitation team.
Assistant Chief Constable Rachel Swann said:
"Kayleigh's Love Story carries a really important message. Its purpose is to protect children, both boys and girls. It is vital that young people understand the importance of staying safe online and the dangers of talking to people online that you don't know. It also helps parents spot the signs that may indicate that their child is being groomed. It is supported by Kayleigh's family and we, in turn, want to support them by sharing this message and helping to protect children in the future."
Tim Clarke is the Assistant Principal at Wootton Park School. He said:
"We are proud to be the launch school for Kayleigh's Love Story in Northamptonshire and we have dedicated our school time today to promoting greater awareness of online safety to coincide with Safer Internet Day 2017.
Following the launch the school will be offering sessions on a variety of pertinent issues such as cyber bullying, sexting, image sharing and digital footprints as well looking at building skills in our learners to deal with issues they find online."