One Meets Husky In A Onesie
28 April 2016, 15:20 | Updated: 28 April 2016, 15:26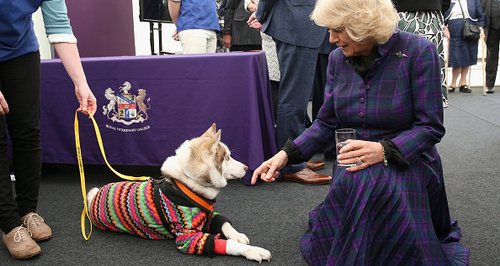 The Duchess of Cornwall has met a onesie-wearing Siberian husky in Hatfield today.
Camilla also met a rabbit called "Prince Harry" during a visit to the Royal Veterinary College (RVC) hospital in town, as it marks 30 years treating animals.

The RVC said
"HRH seemed amused by both encounters as she celebrated the milestone of the RVC's Queen Mother Hospital for Animals near Hatfield in Hertfordshire.

During another meeting with a dog - aptly named Kinggy - it disappeared under her skirt for a split second, when she knelt down to greet it, before reappearing.

The Duchess is patron of the RVC Animal Care Trust, the charitable body that raises funds to support the RVC's clinical, research and educational activities, and she was given a guided tour of the hospital and its facilities.

It is a major teaching centre, pioneering new treatments and procedures, and is the largest specialist referral centre in Europe.

A team of its specialists were the first to successfully treat a dog for the recently-discovered New Forest Syndrome - and Camilla met the now-healthy Alba and its owners.

During the tour Camilla met Karen Leung, 35, from London, and her 13-year-old Jack Russell terrier Kinggy, who needed a blood transfusion after he lost a lot blood during an operation to remove a tumour.

The Duchess was told the hospital has around 100 donor dogs registered, and as she bent down to greet the dog, it scurried under her skirt. She joked with the photographers, saying: "That's a good photo."

Camilla has two Jack Russell terriers, Beth and Bluebell, both from Battersea Dogs and Cats Home, but she fondly remembered a past pet, saying: ``I had a Jack Russell and it got to (the age of) 21.''

As she was taken along corridors, the hospital's clinical director Professor Holger Volk made an unscheduled stop to show his guest Prince Harry the rabbit.

She crouched down to say hello to the furry animal, being treated for abscesses on its skin, and it poked its nose through the bars as if to say hello.

Camilla joked about the rabbit having the same name as her stepson, and said with a smile: ``He looks like the Easter bunny.''

Before the Duchess unveiled a plaque to mark her visit, she met supporters and other staff in a marquee in the hospital's grounds, and sitting quietly in one section was Max the husky, wearing his multi-coloured onesie.

Lynda Rutherford, a lecturer in small animal surgery, said:

"Max was hit by a London bus in November last year, and the skin along his left side was scraped off.

He's being helped by the husky charity Heart Welfare and they made him this onesie to protect his skin as he's had a number of skin grafts."

She added: "Camilla loved his onesie, she was very interested in the outfit, and said 'it's very becoming, it suits him really well and he looks extremely smart'."