Parents Protest Over Childrens Centre Cuts
13 November 2017, 15:21 | Updated: 13 November 2017, 15:26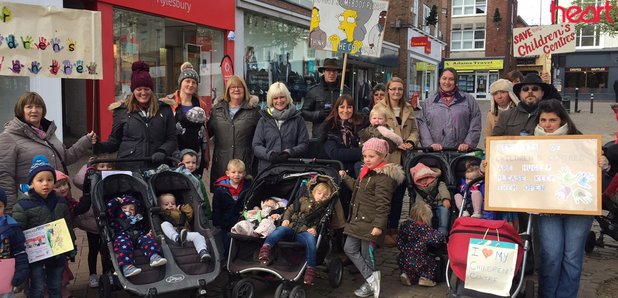 Campaigners have protested against the proposed closure of 35 children's centres across Buckinghamshire today.
They gathered outside County Hall, Aylesbury earlier to fight against a Buckinghamshire County Council plan to introduce a new early help service, that could see 35 children's centres replaced by 9 hubs.
Campaigners say they;re concerned that closing the centres is mainly a cost saving exercise which will adversely affect both parents and their children.
Save Buckinghamshire's Children's Centres Campaigners have been calling for the centres to remain open and for more money to be invested into them, so they can reach more parents and families as opposed to making unnecessary cuts of over £3m.
Wycombe District Councillor, Andrea Baughan said:
"The Centres across the County do incredibly valuable work with families; offering opportunities for parents and children to learn, play, make friends and acquire new skills.
Those who work in the centres are skilled and offer support, information and one to one work for parents facing difficulties with languages, domestic violence, first aid courses, breastfeeding support and advice.
They also give advice on housing and finances, helping parents who may be suffering with post natal depression, anxiety and providing parenting skills. The centres are vital for our communities and I would not like to see them closed down."
Cabinet member for Children's Services, Warren Whyte said:
"We are pleased with the local response to our consultation on improving early help services for children and families in Bucks and to see the local support for our children and families.
I highly value what our residents have to say and I am taking their feedback seriously. We are meeting some of the campaign group today to discuss and understand their concerns further.
We appreciate that local residents are concerned about what will happen to children's centres and some of the support that they offer at the moment. It is important to be clear that services such as grief counselling, health visitor clinics and parenting classes will continue to be provided by our health partners and as part of a new service.
Developing a new early help service is about targeting services for children and families in a better way to those who need help the most and going out to where families are. It is about joining up services for families so they only have to tell their story once and having a more flexible service to support local needs.
By bringing services for families together we will be able to put more people on the ground to go out and meet with the children and families who need us.
We have extended our review of these services as it is important that we develop a model that will improve the lives of families who need us the most and that we take the time to get it right."