Plans Go Public For Big Baldock Expansion
11 July 2017, 06:00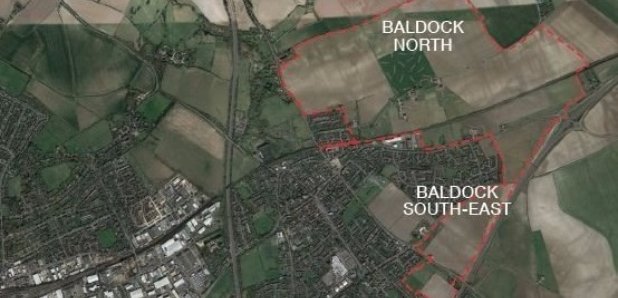 Plans are on display from today for two new developments for Baldock.
Hertfordshire County Council is launching a public consultation on plans to develop two new neighbourhoods for Baldock.
Land owned by the county council, Baldock North and South East, has been identified in North Hertfordshire District Council's draft local plan as a sustainable location for new development to meet the District's future housing needs.
The county council says:
"(The authority) is developing a long term vision for its land which could deliver over 3,000 new to market and affordable homes, new community facilities such as schools, a health care centre, railway station improvements, and large areas of green and public open space.
The plans could also provide two new link roads that would take traffic away from Baldock town centre, reducing congestion and improving air quality.
Hertfordshire County Council recognises that the long term success of the development is dependent on the quality of design of both the buildings and the open spaces, therefore capturing the thoughts of the local community to help steer the project forward is essential. Feedback from the consultation event will be used from the start to ensure the project moves in the right direction.
Local people can view and comment on the county council's vision for its land by attending a public exhibition at the Baldock Community Centre on:
:: Today, Tuesday 3pm-8pm
:: Saturday, 15th July, 10am-1pm
The initial proposals will theb be available online from Monday 17th July at www.baldockconsultation.co.uk
David Williams, Cabinet Member for Resources, Property and the Economy at Hertfordshire County Council, said:
"Over the coming months we will be consulting with the local community on our vision for our land starting with two public exhibitions next week. I hope lots of local people can come along and help shape our plans."
Derrick Ashley, Cabinet Member for Environment, Planning and Transport at Hertfordshire County Council, said: "In Baldock we have a unique opportunity to make a major contribution to the housing needs of the county with an exemplar development that will raise the standard both in terms of quality and design. The county council will work over the next few years to ensure that Baldock will be the gold standard to which other developers should aspire."
North Hertfordshire's draft Local Plan, which sets out how the district will be developed up until 2031, was approved by the District Council in April 2017. It is due to be considered by a planning inspector in the autumn with final approval required from the Secretary of State next year.